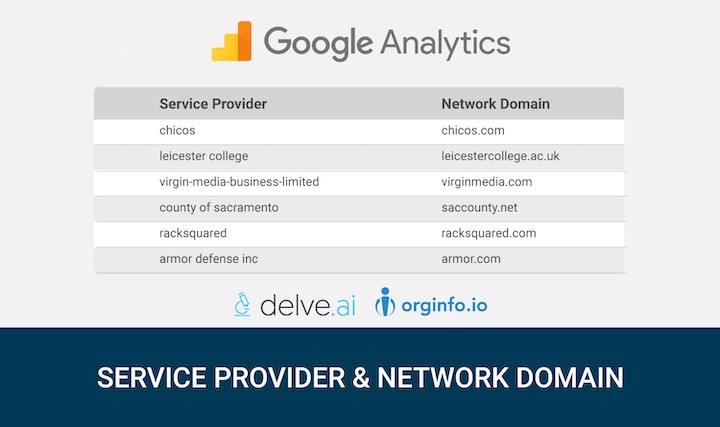 On 4th February 2020, Google Analytics (GA) deprecated the following two Technology > Network dimensions: Service Provider and Network Domain dimensions. Since GA no longer provides these Network related dimensions by default, you will have to create them in the form of custom dimensions and populate them automatically. An easy way to accomplish this is to use Delve AI's seamless integration with orginfo.io service.
This guide will show you step-by-step how to get Service Provider and Network Domain data into Google Analytics . This is useful for example if you'd like bot/spam detection, internal traffic filtering and/or lead generation.
Requirements:
Setup custom dimensions on Google Analytics
Assuming you've already set up a Google Analytics account, go to your GA account and click on

Admin

in the bottom left corner.

Under

Property

settings, select

Custom Definitions → Custom Dimensions

.

Create two custom dimensions, named

OrgInfo Service Provider

and

OrgInfo Network Domain

respectively. Click "+

New Custom Dimension

" to add each dimension and follow steps as shown below.

Please note: Scope

should be set to '

Session

' and

Active

'ticked'

Note the index number of each of these custom dimensions,


as we will need them in the steps below.
Set up organization tracking on Delve AI dashboard
Assuming you already have a Delve AI account, go to your Delve AI dashboard, select the correct business using the business dropdown on top, and click on

Settings > Organizations

on the menu on the left side.

Set the correct index numbers of

OrgInfo Service Provider

and

OrgInfo Network Domain

custom dimensions to match those as set in Google Analytics.

Choose how you have installed Google Analytics on your site:

analytics.js
gtag.js
Google Tag Manager

For

analytics.js

and

gtag.js

installation types, add the

orginfo.io

code snippet

after Google Analytics

code snippet on ALL pages on your website where GA is being used.



For Google Tag Manager installation type, go to the Tag Manager console and perform the following steps:

Add a new trigger for orgInfo Events

Click New.
Name the trigger as

orgInfo

.
Under Trigger Configuration, set Trigger Type to

Custom Event

and Event name to

orgInfo

.
Set the trigger to fire on

All Custom Events

.

Save the orgInfo trigger.

Add a Variable for OrgInfoNetworkDomain.

Click New in User-Defined Variables section.
Name the Variable as OrgInfoNetworkDomain.
Under Variable Configuration, set Variable Type as Data Layer Variable and Data Layer Variable Name as OrgInfoNetworkDomain.
Check the box to

Set Default Value

and set the Default Value as

(not set)

.

Save the OrgInfoNetworkDomain Variable.

Add another Variable for OrgInfoServiceProvider.

Click New in User-Defined Variables section.
Name the Variable as OrgInfoServiceProvider.
Under Variable Configuration, set Variable Type as Data Layer Variable and Data Layer Variable Name as OrgInfoServiceProvider.
Check the box to

Set Default Value

and set the Default Value as

(not set)

.

Save the OrgInfoServiceProvider Variable.

In addition to your existing Google Analytics (Universal Analytics) tag, add a second tag to trigger OrgInfo events as non-interaction hits.

Click New.

Name the tag as

Google Analytics UA OrgInfo

.
Choose tag type as

Google Analytics: Universal Analytics

.
Set Track Type as

Event

.
Set Category as

orgInfo

.
Set Non-Interaction Hit to

True

.
Check the box to

Enable overriding settings in this tag

.
Set the Tracking ID to your Google Analytics Universal Analytics ID.
Add custom dimension values -

{{OrgInfoServiceProvider}}

and

{{OrgInfoNetworkDomain}}

- with index numbers matching the settings for the respective OrgInfo custom dimensions in Google Analytics.

Set Triggering with Firing Triggers for

orgInfo – Custom Event

.
Save the

Google Analytics UA OrgInfo

tag.

Add a third Tag to add the given OrgInfo code snippet.

Click New.

Name the tag as

OrgInfo

.
Choose tag type as Custom HTML and copy-paste the given code snippet.

Set Triggering with Firing Triggers for

All Pages – Page View

.

Save the OrgInfo Tag.

Be sure to Publish your changes and assure that Google Tag Manager is launched and live on the site.

In all cases, please note that the

index numbers

with "

dimension

" prefixes in the given orginfo.io code snippet is set to match the settings for the respective OrgInfo custom dimensions in Google Analytics.

To increase visitor privacy, IP anonymization option is available. When turned ON, the last part of the visitor's IP address will be removed, thereby making it anonymous.

Update your website's Privacy Policy document to mention your usage of

orginfo.io

service along with the mention of your usage of Google Analytics.
If you have followed the steps above carefully, you should start to see data for OrgInfo Service Provider and OrgInfo Network Domain custom dimensions in Google Analytics, as well as resulting Organization/Internet Service Provider/Leads (B2B) data on Delve AI dashboard within 36-48 hours.
Please contact us at support@delve.ai for any related questions or assistance.