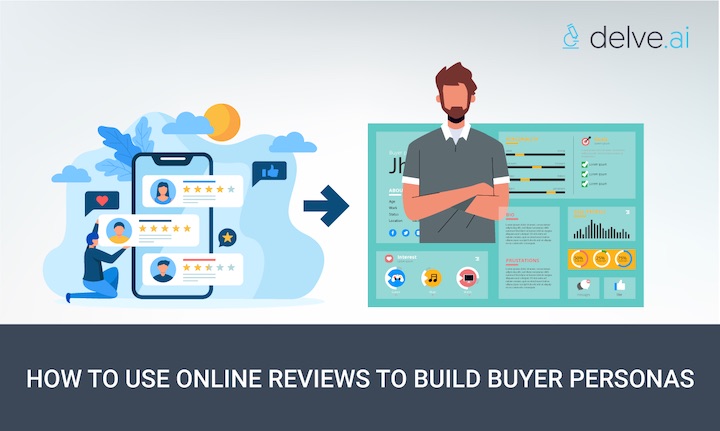 In 2012, JCPenney, a midscale American department store chain, did a radical rebranding when Ron Johnson became its CEO. They changed the look and feel of the store, took off private-label brands, and replaced them with designer ones that were deemed 'too costly" for most of their customers. They had a sales model that was reliant on coupons and markdowns, but everything was changed.
Same-store sales plummeted by 32% in the fourth quarter of the 2012 fiscal year, and it was dubbed "the worst quarter in retail history."
Johnson admitted that he wasn't sure what his customers wanted. When company executives asked him to reconsider his strategies by rolling out the changes on a limited basis, his retort was-"We don't test at Apple."
He lasted at JCPenney for 17 months before he was fired.
If he and his team had analyzed the voice of the customer and built buyer personas, he could have easily avoided this.
What are buyer personas?
Buyer persona is a fictional and detailed representation of someone who is identical to your target audience. While the personas are fictional, it is arrived at based on extensive research on one's existing audience, competitor's customers, and other data sources.
Getting the attention of a prospective buyer is hard. It is estimated that the average person encounters between 6,000 to 10,000 ads every single day. No wonder that brands do everything in the hope that it will pique the curiosity of their target audience.
Buyer personas play a big role in making that happen. How? By tailoring your marketing communication to people who are more likely to buy.
Why are buyer personas important? Why should you use them?
Buyer personas have the ability to supercharge your marketing results. If you are a marketer, the worst thing that you can do is to try to target everyone. You will end up missing the opportunity to deal with people or organizations who are a part of your target audience. Your marketing campaigns, communication strategy, and the content you end up creating will miss the spot by miles.
They do the following for your business:
Helps understand your existing customers. When you create your personas based on your existing customers, you will get an in-depth understanding of why they buy from you, and how their buyer's journey looks like.
It helps fine-tune your content, thereby making it more relevant and personal to your target customers.
You will end up aligning your products and services with the needs of the customers.
Helps businesses clearly communicate their top-of-mind problem and the best-fit solution for that problem.
The brand will build better products by developing features that the customers really want.
What are the things in online reviews that you should look for?
Your customers' desires, needs, requirements, and goals
Things that frustrate them about their experience with you (or with your competitor)
The various objections and risks that they need to handle while using your product
Understand the outcomes that they want
Their age, education, occupation, and designation
What are the things they are interested in? What are they passionate about?
Look for things that they strongly believe in, their morals, and values
Popular online review sites:
Google, Yelp, Facebook and Tripadvisor are responsible for 88% of all reviews. Instead of adding your business to every directory, choose the ones where you can find most of your customers. Let us look at a few of the top online review sites.
Google Business Profile: It is a free tool for businesses to manage their online presence. Since Google is the go-to search engine across the world, consumers search for Google reviews (63.6% of them) and a bad one will not look good for you.
Amazon: The most visited eCommerce website in the USA, Amazon is a virtual library of reviews. Retailers can understand what aspect of certain products work and what does not, by reading the reviews.
Facebook: The sheer size of its user base has made it one of the most popular business review sites. From a review format where you could give them ratings based on a scale, they have pivoted to recommendations that only have comments.
G2: It is a platform where users can post reviews of software where verified users share their experience and feedback.
TripAdvisor: For consumers looking for businesses in the travel sector, this is your go-to site. The platform reached one billion reviews in 2021.
What are the rich persona attributes that can be gathered from online reviews?
As a rich source of the voice of the customer, online reviews can give you the persona attributes that can be used for building the latter. Let us look at some of the attributes that can be gathered from the reviews.
Demographic information: You can gather information such as age, gender, occupation, salary, education, job role, location, and family.
Challenges and goals: It will help you enrich the persona by giving you access to attributes such as primary and secondary goals, and how to achieve them.
Values: What are the values and ethics that they espouse? It will have a huge bearing during the sales process as people's purchasing behavior depends on the morals and values they espouse.
Information sources: You can learn where your customers gather information from. It can help in streamlining your buyer's journey too.
How to use online reviews to build buyer personas?
People are talking about their experiences in online forums. Every piece of information that is shared on such forums can be used strategically to build buyer personas. Here's how your marketing team can effectively use reviews to refine your buyer personas.
1. Segmentation:
Online customer reviews offer deep insights into customers and their different characteristics such as lifestyle, social status, personality, interests, opinions, activities, and attitudes. Based on how these psychographic attributes are relevant to your offerings, you can refine your buyer personas. Understanding the personalities of your buyer personas help you craft the right brand personality and get your communication right.
2. Discover new uses for your product:
There are times when your customers might use your product for something completely different than what it was built for. Marketers and product managers might have missed such use cases that will come to light when customers share their thoughts on a review forum. You might even end up reaching newer markets that might not have been under your radar at all.
If you see only one stray review, you don't have to convene your team. But if there are a number of reviews that talk about the same alternative use cases, then it is time that you create a new persona for this segment of customers.
3. Helps with content marketing:
By looking at the reviews posted about your product on online portals, you will get an idea of the type of content that would pull in more customers. You'll know what exactly your target audience likes and prepare content accordingly.

The above is a review on G2, a leading peer-to-peer review site. The review posted is for Adapt, a B2B contact and database provider. Based on the above information, Adapt can create content targeting organizations that plan to use LinkedIn for their lead generation.
4. Find out who isn't your ideal customer:
One of the biggest advantages of online reviews is that it helps you solidify the image that you have of your most ideal customers based on five star reviews. The same can be extrapolated to find out those who aren't a part of your target market at all. How? By looking at the 1 star reviews.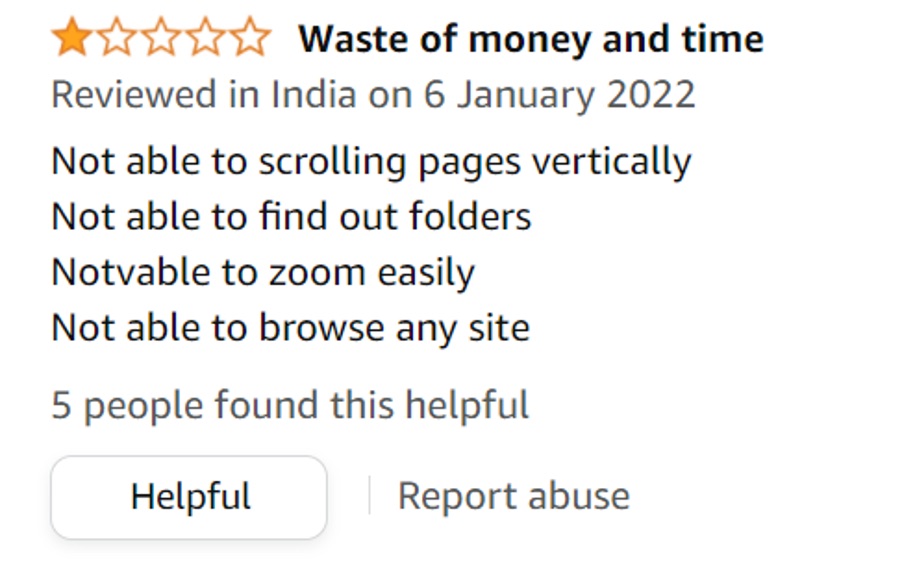 The above is a review on Amazon for Kindle Paperwhite, one of the most popular ebooks on the planet. The review tells the manufacturers of Kindle (read Amazon) that it needs to educate its users that none of its Kindle variations can be used to browse random sites.
Take a look at the 1 and 2 star reviews, find out how they have worded their reviews, look for patterns in their complaints, and see if you can put them into a segment. If you see a large enough trend, then make sure that they aren't a part of your target segment for your future marketing campaigns.
5. Deliver delightful experiences:
Reviews about your products on public portals is a great way to find out if the solution you offer right now is in line with their expectations. Does it solve all the pain points that it intended to solve in the first place? Are there reviews from customers who are still struggling with some of the issues that they had earlier? You can find out if there are such instances by analyzing reviews about your product. Based on this information, you can go back to the drawing board to build a more evolved product.
6. Follow up to close the feedback loop:
In online forums, you have the opportunity to respond to customers' reviews. Brands can use this space to get back to their customers with appropriate responses. Refine your buyer personas by observing the various reviews, the patterns in it, the appreciative comments, and those that are filled with complaints.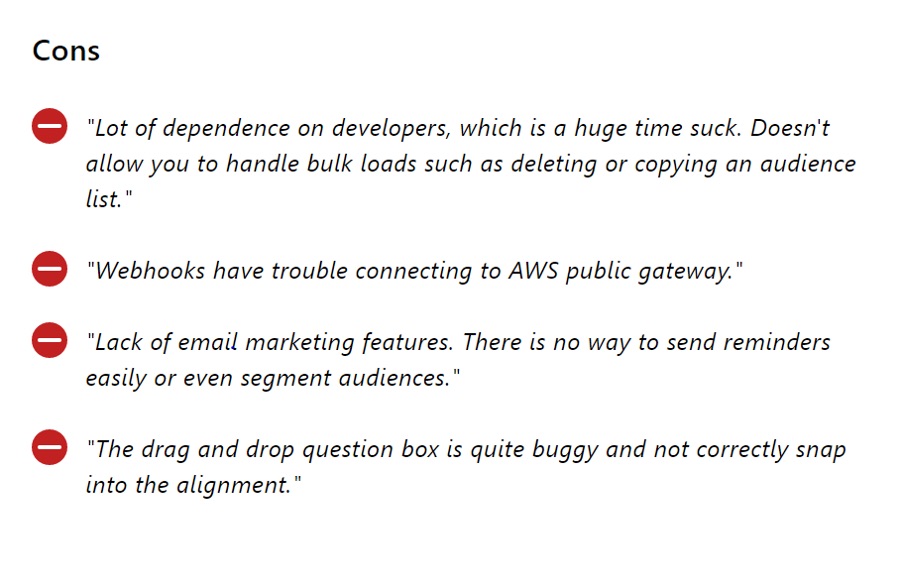 The above reviews are for a popular online survey tool. Each of the points mentioned in the review should be prioritized and responded to. After they resolve the bugs, they can close the feedback loop by responding to the customer that the issues they raised have been taken care of. The comments made here are also helpful when you are refining your buyer personas.
Each of the reviews have something to teach you, and it will eventually help the brand when creating buyer personas.
7. Learn from your competitor's reviews:
You can not only learn from reviews for your brand, but going through that of your closest competitors' is also a goldmine that should be taken advantage of. Use the exact strategy that you employ for your reviews when you pore through reviews on your competitors' products. If they have a feature that multiple customers keep raving about, then make sure that you introduce that, unless it is completely off track from what you do.
What are the words of praise lavished on their product?
What do their customers look like in terms of demographic characteristics?
Do they mention the pain points that are being solved by your competitors' products?
Are there complaints on the reviews that you can use to immediately woo them to your side?
Challenges in using online reviews for buyer personas:
With more and more consumers turning to their peers for recommendations of products and services, the need for unbiased and truthful reviews are at an all-time high. While using online reviews to build buyer personas is a perfectly good strategy, it does come with its own challenges.
1. Fake or fabricated reviews:
When the user has not personally experienced the product, it is a fake or fabricated review. A review could also be positively biased or negatively biased. The former could come from friends, family or employees who are trying to boost the ratings of the business. A negatively biased review is from someone who is trying to undermine their competitors. Sometimes, it is difficult to identify such reviews, and that's where the problem begins.
2. Spam or irrelevant reviews:
Another annoying thing about online reviews is the prevalence of spam reviews or those that are completely irrelevant to the product. They don't add any value and will only skew the ratings. They certainly cannot be used when building buyer personas.
3. Merging insights from other data sources:
While online reviews are a great source of information that can be employed in creating buyer personas, they cannot be merged with other data sources as it is difficult to quantify it. The only quantifiable part of a review is the star rating, usually given on a 1 to 5 scale. This makes it difficult to combine it with data sources such as web analytics, survey results, etc.
4. The customer is not always right:
The hard truth is that customers are right, but only at times. Some of the reviews might be a reflection of their emotions at that point of time. If the user gives a rating of 3 (on a scale of 5) to the product because it didn't have a drag-and-drop builder, is it the company's fault since they never promised it? Converting raw human emotions into data can deprive us from logical answers that can be used to improve our products. But we have to make do with what we have.
Wrapping up:
Even though there are a dime a dozen online review sites, having your presence in the right ones in terms of popularity and niche coverage of your business category should be the road you take. Online reviews are rich sources of the voice of the customer and hence very helpful in building buyer personas. The way customers talk about their pain points, challenges, and wins, on online review sites, will help you get a much clearer picture of the audience that you want to target.
If you want to take your business to the next level by creating buyer personas automatically from data-rich sources such as online review sites, Delve AI is the platform for you. Check out our website or get in touch with our team to understand how our SaaS solution can help you power your users.