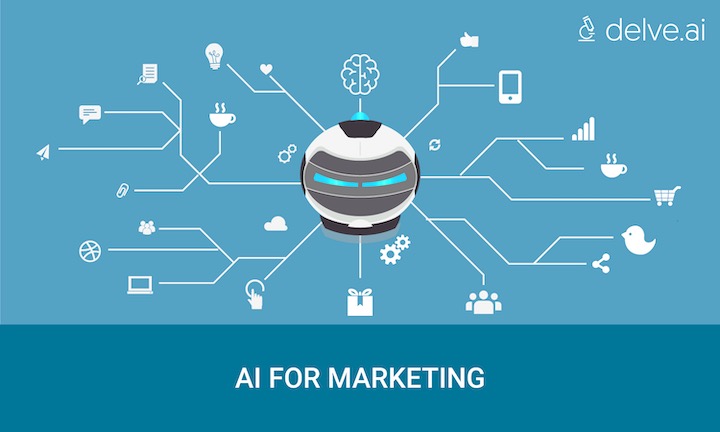 If you see an article which starts by saying that the importance of artificial intelligence (AI) technology to mankind is akin to that of the wheel, would you balk at that thought? Chances are less. Unless you are completely unaware of its influence because you live under a cave, you would be agreeing with it exclaiming at the truth in the statement.
AI has seeped into our lives in a way that it is almost impossible for us to imagine a world without it. In the last four years, AI adoption by businesses has grown by more than 270%, says Gartner. By 2027, the global AI market is expected to reach $267 billion, according to Fortune Business Insights, 2020. It is a ten-fold increase in eight years as the value of the AI market in 2019 was $27.23 billion.
Most of the popular products that you use today have AI systems powering them. The business in question might not even be a technology company, but many of its functions like customer service, operations, etc., could be enabled by AI systems. Naturally, marketers are not ones to let go of leveraging technology, which is why you will find AI systems helping them across each stage of the customer journey.
Here is how AI is helping marketers and marketing:
#1 Audience targeting:
The audience that you show your ad to matters. You cannot expect great results if your targeting is off the charts. Showing your ads to cops in the Manhattan region when you are targeting dentists in Ohio isn't the smartest decision. Some of the biggest platforms that you use, Facebook, Google, Quora, Reddit, Instagram, Snapchat, etc., have oodles of data that can be used to segment customers with relative ease. It is impossible to do all of this manually.
AI looks at your past audiences, how your ads performed for that particular set of audiences, and so on. It considers the KPIs you use and your performance data to arrive at audiences who are more likely to buy from you.
AI tools for advertising: AI also helps with performance and spend optimization of the ads as well as its creation. Some of the most popular AI tools for advertising are: Adobe, IBM, Albert, GumGum, Pathmatics, Phrasee, WordStream, etc.
#2 Lead Generation:
Based on your existing data, including information about ideal customers, clients, etc., the AI system will be able to show you a list of leads that are closest to becoming your customers. It will even score the lead based on preset conditions. The leads that have the highest score are looking for a solution similar to yours. Your salespeople will be better equipped to provide them with a solution and that too at the right time.
It reduces the time taken for manually scourging through leads from multiple sources. Most of the methods followed to find leads are tiring and are not that effective either. Building an AI system for lead generation allows you to spend time on more important tasks that will add value directly to the company's bottomline.
AI tools for Lead Generation: LinkedIn' Sales Navigator Tool helps find leads, it is also powered by AI. Node is a similar program that uses metadata to recommend new customers. Growthbot by HubSpot integrates its AI to CRM systems to generate leads. Conversica is an AI tool that engages in conversations with possible leads to collect real-time information and passes the same to the salespeople.
#3 Personalization:
Sending the right content to your prospects based on his/her needs can make you win deals. Customers these days expect the moon and it is perfectly all right because you can use AI to offer a piece. They expect you to understand what they want and showcase that in front of you. With the help of AI and ML, you will be able to deliver a relevant and personal experience to the visitor. The offers that you send prospective customers should be available across a variety of channels. If not, they will be confused and leave for your competitor.
To provide such an experience, online retailers should gather data within seconds. Is it manually possible? Of course not. This is where AI and ML come together to send contextual content and offers to convert the leads into sales. According to Everstring, 71% of marketers are interested in AI for their marketing mainly because of personalization.
AI tools for Personalization: Skyword, Scripted, Curata, etc., helps you scale your content. Acrolinx uses natural language processing to read all your content and suggests improvement. Atomic Reach tells the business to edit content to increase its engagement. Boomtrain finds your content that is most likely to be 'engageable' for the user. OneSpot uses ML to match content to the preference of the individual using website interaction data.
#4 Deep understanding of customers:
"We know enough about our customers now, let's not spend more time on collecting their data, instead, let's make some sales" said no business ever. Every business knows that customers keep changing their preferences and are always on the lookout for the next shiny object. So if you need to keep the attention of your prospective customers, you need to keep refining your understanding of them.
Finding buyer personas is one of the prime tasks that you should undertake before planning any marketing campaign. Once you have the personas for your product, you will be able to create content that is tuned towards what each of the personas want to consume.
Live Persona by Delve AI is an AI-based tool that uses Google Analytics to extract personas automatically for your business. It offers incredible insights into what your prospective customers are looking for by using data from more than 20 sources. It even goes a step ahead and segments your audience. You don't have to worry about customer's expectations and behaviors changing over time because the personas are automatically updated on a regular basis.
#5 Behavioral Analysis:
Retailers love AI and ML because it allows for segmentation of customers and offers products for them based on analyzing and understanding their purchasing habits.
Mere personalization doesn't hit the perfect pitch, customers are looking for individualized interactions. It implies an offer that is exclusive for the particular customer and not just because they are a part of a customer segment. For a business that has thousands of customers every day, is it even humanly possible? Thankfully, there is an AI system which can make that happen.
AI/ML analytics tools will tell us estimated transaction value, probability of someone making a purchase, their affinity towards our brand, and so on. Based on a report by Salesforce, more than 62% of customers are willing to allow AI to improve their user experience.
Tools: Xineoh, Black Swan Data, Dynamic Yield, Cortex and Logicai.io are some of the AI tools that help businesses predict customer behavior.
#6 Competitor Insights:
The importance of knowing what your competitors are doing cannot be discounted. Ever. Everything that your competitor does can either be a lesson or something that you need to adopt for your business. Some of the most successful companies in the world have always made it a point to learn from their competitors. Why else would corporate espionage be a thing? No, getting competitor insights will not put you on the wrong side of the law. We are talking about using tools that are specifically used to understand the visitors on your competitor's website, the content they create, the tools they use, and so on.
Competitor Persona by Delve AI tool helps you understand details about your competitors and their marketing strategies. Input your competitor's URL and the tool will create personas of your competitors' users automatically. It will help you with market analysis and give you a multitude of ideas on what your competitors are working on. Manually going through each page of your competitor, their social media handles, content on different platforms, etc., might not be a smart decision.
#7 PPC Advertising:
When you set up a PPC campaign, you can either choose manual or automatic bidding, placement, etc. The latter is done by AI. While PPC requires AI, it cannot function without the help of a human. AI systems have only managed to take over repetitive tasks of PPC management, but they are great in improving the campaigns. It helps with optimizing your ads, dynamic ads whereby it shows different ads to people based on their browsing history, adjusts your bidding value to help you achieve your objective, help you uncover the most relevant keywords for you, etc.
Tools: Acquisio, Adzooma, and PPCHero are a few of the tools that make PPC management easy with the help of AI.
#8 SEO Optimization:
Using AI for SEO allows you to use much better solutions that will help with your page rankings and create a better strategy. Search engines are getting smarter at identifying irrelevant backlinks, keyword stuffing, poor content, and so on. Marketers are instead using AI to meet the high standards that search engines have.
To give you an example of the kind of power that AI wields in improving SEO performance, let's say you want to see when your company is mentioned somewhere, you do not have to manually do the checking. There are tools like BuzzSumo and HubSpot that will automatically notify you.
Tools: WordLift, Bright Edge, MarketBrew, Pave AI, Dialog Flow, and Albert.
#9 Social Media Listening:
What customers speak about your business and its various aspects like customer service, operations, time taken to order, etc, they tell a lot about you. Not only is their opinion something that you should reflect on, but it should also make you sit up and take notice. Thanks to AI, you can collect this data in real-time. It will help you unearth patterns based on their conversations.
One conversation about your product might be on a subreddit while the same keyword might have been used by a different customer on Twitter while someone on Facebook said a similar thing. By now, the AI system recognizes that it is something that you might want to know. You will be able to come up with brilliant solutions and offer immediate resolution to your customer's problems if you listen to what your customers and prospects say about you.
Tools: Lately, Genylabs, Synthesio, Socialbakers, Sprout Social, etc., are some of the tools that help businesses with understanding what your customers talk about you on the internet.
#10 Email marketing:
The ability to write attractive subject lines which makes the recipient open the emails is a skill that businesses will pay thousands of dollars. Why? Because email marketing's ROI is $42 for each dollar spent and the more the emails that you send are opened, the higher are the chances of your prospects converting into customers.
Your customers judge every email that comes to them based on the subject line. Within the few seconds that they read the subject line, they have decided whether to open it or not. More often than not, subject lines are the ones that are created at the end of the campaign which means that businesses do not tend to give them the attention they deserve.
Through natural language technology, AI will find the best words that recipients are likely to respond to, keeping in mind the brand language. Phrasee and Mizy are two of the most popular tools that help businesses in this area.
#11 Predictive marketing:
The choices that we humans make are not usually rational, but they have patterns to it. It cannot be arrived at after going through a few data sets, you need tonnes of data for it. AI has the ability to go through so much data to predict the what, why, where and how of a customer purchase.
It uses various sets of attributes to predict our behavior. Businesses can have better understanding of its customers as it uses text analysis, sentiment analysis, lead scoring based on a set of attributes, etc., to get it right. If a business can use the right channel to offer the right product for a customer, that too at a price they are looking for, you can safely expect the sale to happen with ease.
Tools: Cortex, Crayon, IBM Watson, Google Cloud AI, are some of the tools that help with predictive marketing.
#12 Chatbots:
One in four customer service organizations are currently using AI-powered chatbots. There is no other tool that has changed customer service for the better like Chatbots did. Initially, it was a place for customers or visitors to get information based on a variety of attributes. Thanks to AI-powered chatbots, the systems learn on their own. So with each passing interaction, the system is getting smarter and its responses are becoming more accurate. Chatbots are already a huge part of our lives in the form of Siri, Alexa, Cortana, Google Assistant.
Chatbots are also increasingly being used in complex fields such as law. As of now, it helps you file appeals against traffic violations. There are chatbots in the education sector that grade essays. Mental health chatbot? There is Woebot for that. They are revolutionizing business and industries by improving customer service, adding charm to your brand, answering queries, helping them choose the right products based on their recommendations, and so on.
#13 Customer Support:
With the help of Machine Learning and Natural Language Processing, customer support becomes a cakewalk for businesses. With its ability to multitask and handle multiple number of queries, AI generates responses with a speed and accuracy that humans cannot. By using tonnes of data, AI can do the following to enable customer support:
Understand the customer from the information collected
Identify the issues that they are facing
Analyze their behavior patterns
Find out their decisions and preferences
Create suitable solutions and products
Respond to messages
Offer personalized products and discounts
Minimize the cart abandonment volume
Solvvy, MonkeyLearn, Freshdesk, etc., are some of the AI-based tools for customer support. Gartner predicts that more than 15 percent of customer service interactions will be fully powered by AI by 2021.
#14 Content Generation:
Content creation using AI is still in its infancy. There are programs like GPT-3, GROVER, MarketMuse, and XLNET that are known to create content from the AI alone. But these programs haven't been able to produce exceptional pieces of content. OkWrite, a tool that creates AI-content tells in its blog that while it can produce content, it cannot generate an emotive feel.
They also add that it will be easily discernible to the average reader whether a piece of content is written by an AI or human. As of now, AI cannot replace original content, but it is a great help as it assists with the direction required for a blog post, initial content research or even the strategy for content marketing.
The Washington Post used AI to develop a writer named Heliograf, which used multi-sentence updates based on different data sources during the 2016 Rio Olympics. It was able to write around 850 stories depending on user requests. These were stories to attract pageviews, not longform content with an in-depth analysis though.
Ad platforms:
AI powers the purchase and sale of advertising in real-time which digital advertising platforms use. From advertising on platforms like Facebook, Instagram, Snapchat, Reddit, to third-party networks, including programmatic exchanges, AI is a blessing for advertisers.
The performance of your ad and the effectiveness of your budget is decided by the data points that the AI systems use. For example, terms like ad frequency and relevance score are data sets that Facebook uses to dictate how much you should pay and how these ads are displayed.
Non-marketing use cases:
#15 Product Design:
AI systems can test the product or features, just like how an actual user would, based on the thousands of user sessions to find bugs in the system, something which even the product manager or a quality tester would have missed. If an AI system is armed with data about how users use a particular product, it will even be able to suggest the team on how it can build better product designs. AI systems can even go through the proposed user flow and determine if a user will complete a desired action or not. Let's say we are talking about a manufacturing company, it can save millions of dollars in terms of research and development.
#16 Sales forecasting:
Teams that use AI extensively are ten times more likely to experience better forecasting and possess accurate sales pipeline, according to Salesforce. Manufacturing and retail companies will run into huge losses if they either produce more than what is required or lesser than what is necessary.
Human forecasting involves a bunch of formulas that have been refined over a long period of time, but it doesn't input millions of data sets and there is no way humans can involve a lot of variables into the play. AI and ML are a gift to businesses that want to forecast sales. It will analyze the past opportunities, sales, successes, misses, percentage of win, and so on to forecast the sales. Based on the forecasting, the business only needs to produce as many products.
Challenges for AI in Marketing:
More than 9 in 10 top businesses have either invested in AI or are on the verge of doing so, according to the Big Data and AI Executive Survey 2020. Embracing AI technology is a step that all businesses should do without fail and that too in a war footing. Even though AI-powered platforms are becoming more common than one would think, there are still issues with using AI for your marketing.
Here are some of the reasons: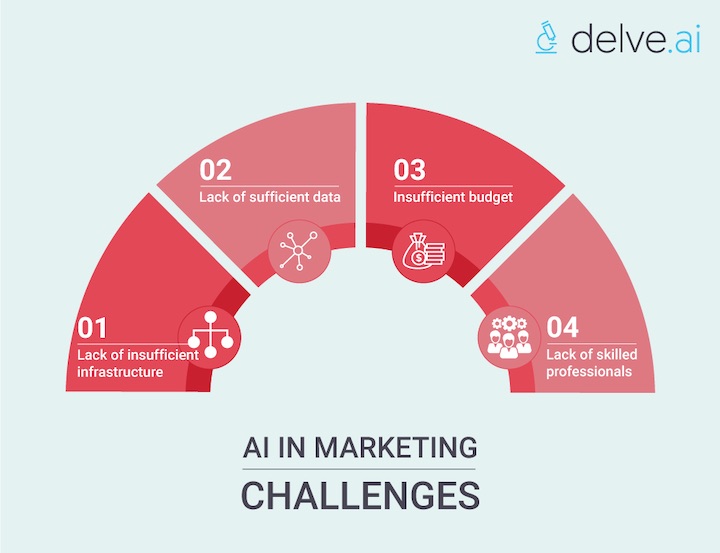 Lack of insufficient infrastructure:
If you want AI to power your marketing engine, make sure that there is an IT infrastructure with high-performing hardware which is already in place. Smaller companies that have a low budget might find it difficult to set up such an infrastructure as the computer systems required to set up can be expensive. Thankfully, there are cloud-based solutions which use less resources and don't burn pockets either.
Lack of sufficient data:
The data that an AI system requires should not only be of high-quality but there should be a large amount of data to make sense of it. The existing data sets should be clean. If the data is not of high quality, then the success of the AI campaign will be low because the data isn't reliable.
Insufficient budget:
There are no questions about the efficacy of AI systems adding a fillip to your marketing efforts. Having a tech stack and other martech tools can itself add a lot to your budget. The leadership team should be persuaded with details including highly relevant business data and forecasting to prove how good AI can be for your marketing.
Lack of skilled professionals:
There is a huge AI skill gap, which is why only large businesses are even thinking about creating in-house AI-based marketing solutions. AI talent is not growing as fast as other technology positions since it requires specialized skill sets. Even businesses that use readymade AI marketing tools should sufficiently train their employees to manage and interpret the results accurately.
While these are some of the challenges that businesses need to consider before jumping into the 'AI in marketing' bandwagon, you can always come up with alternative solutions. Businesses should ensure that they use the AI software responsibly. The results from AI systems in your marketing is going to be exponential, this is what you need to keep in mind when assessing the need for it.
Trends and technologies:
Marketing is growing at such a rapid pace that unless a marketer has his/her ears on the ground, each new advancement might sound like poppycock. What was relevant two or three years back may be something that no one uses anymore. Remember the time when many businesses used to stuff articles with keywords? Even the bad ones don't do it anymore.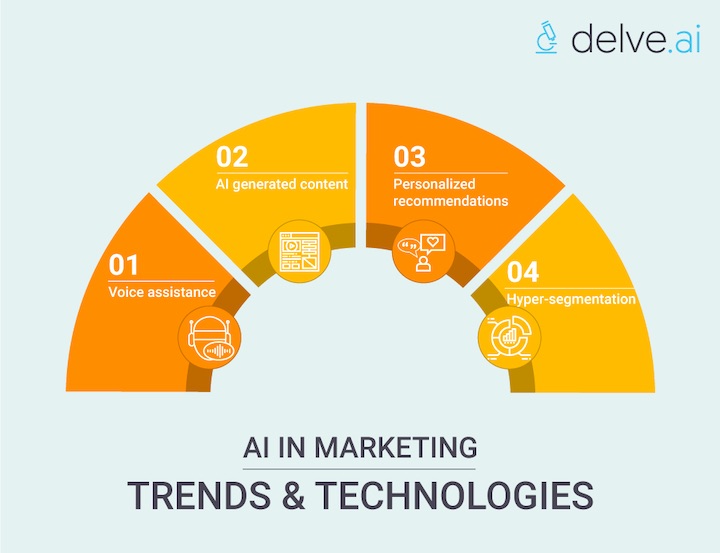 Such a recent trend is Artificial Intelligence, although it hasn't been fully explored yet, there are so many use-cases for it in the marketing function alone. Here are some of the AI marketing trends:
Voice assistance:
With smart homes getting adopted at an incredible pace, the importance of voice search is going to increase. The number of AI-powered voice assistants is forecast to reach 8 billion by 2023. AI-based voice assistants will save time for the customer from typing long form queries, offer fast solutions, improve sales and expand brand value, and improve customer retention. 43% of owners of voice-assisted devices (ages between 45 and 60) in the US currently use them to purchase items online.
AI Content:
No, artificial intelligence hasn't been that smart yet to mimic the average human brain yet. They can create content based on data that is already available, but might not be able to add the human element in it, at least not yet. AI helps immensely with strategizing content, all of which helps with increasing traffic and placement on top of the search engine results.
Personalized recommendations:
One of the most popular use cases of artificial intelligence is its ability to recommend products based on previous data. It doesn't even have to be for a segment of the audience, even if there are millions of users, it can create personal recommendations for each of them. With customers becoming increasingly demanding, personalizing your offerings will put you in their good books.
Hyper-segmentation:
Before AI was a thing, marketing campaigns had more guesswork than data in it. So it was a hit or miss scenario with most of the campaigns. AI equips marketers to process huge amounts of data. With ML algorithms reading through tonnes of data, it will learn more about the audience, create connections between each data point and create hyper-focused and highly segmented groups.
Persona research:
Hyper-segmentation of your audience offers a deep understanding of customer characteristics. Using this, AI-powered software can build personas that go beyond the typical characteristics that are listed in a buyer. Thoroughly analysing each piece of data, you can create extremely targeted personas. They can be then used as super targeted audience segments to send them personalized offerings.
Lead qualification, lead scoring, micro moments, targeted timing, cutting-edge predictive analytics, etc., are some of the other use cases.
How to use AI in marketing?
With the help of AI, marketers can create spectacular offers which will reduce the length of the sales cycle, increase retention rate and bring in more customers. To put it in simple words, AI in marketing uses customer data, historical data, machine learning and other computational data to predict what a prospective customer would do.
Would they buy from you immediately? If not, when would they buy it? What content do you need to show them so that they will be ready to open their purse strings? What exactly are they looking for? What is the price they have in mind? What are the features that they like most about your product? And so on.
The answers to each of the above questions provide you with an opportunity to make business decisions. That's how powerful AI is for marketers.
Before you jump in the bandwagon, you need to know what exactly you want. You need to have a clear idea of your strategic objectives and understand how AI can help you with it. If there are AI solutions that are already available based on your requirements, then go ahead with it. Does your requirement make it necessary for you to build a custom AI-solution? Then you need to discuss with different stakeholders to understand if it is something that you can afford and what is the opportunity cost of not doing so.