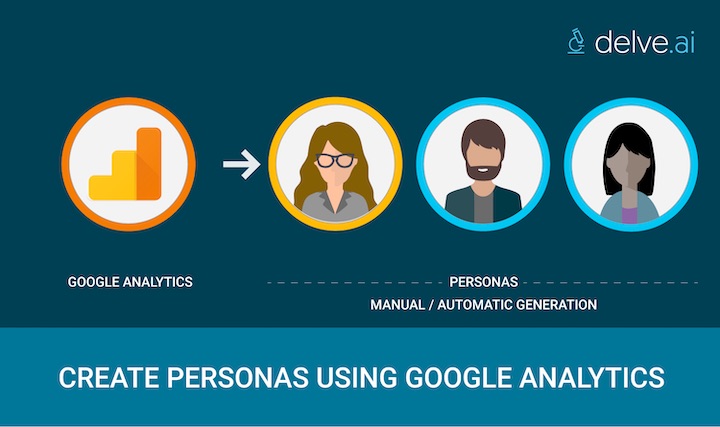 Over 29 million website owners use Google Analytics to understand how people come to their websites, how content performs and how to get more conversions. Google Analytics is clearly, the dominant analytics tool used by web marketers. The main purpose of such analytics tools is to help understand digital users and their interactions better.
Identifying buyers/prospects and associated personas is vital for improving marketing strategy. Given that Google Analytics provides detailed reports based on behavior data collected from users, insights from these reports can be used to create buyer personas.
Buyer personas are created usually using user surveys and interviews. Such qualitative methods can be expensive, time-absorbing and cover only a small section of the entire base of buyers. Using reports from Google Analytics to create personas, complementing qualitative methods, enables incorporation of buyer insights from data at scale. In an era of fast changing consumer behavior, it also allows for frequent updates that keep personas relevant. Further, they may help uncover customer groups or niches that you were previously not aware of.
This guide will show you two best ways to use your Google Analytics data to create buyer personas.
Using Google Analytics reports (manual process)
Using Google Analytics with Live Persona by Delve AI (automatic generation)
Overview of key reports in Google Analytics
Here are some of the key reports in Google Analytics that empower you to understand your users better and help in creating personas.
Audience reports segregate your users based on attributes related to who they are. They include reports such as age, gender, location, interests and devices used. You can evaluate distinct groups of buyers based, for example, on their geographical location (Audience > Geo > Location) or their purchase habits (Audience > Interests > Affinity Category). To help interpret your audience segmented further, you can include secondary dimensions and design customized funnels.

Acquisition reports illustrate how your audience came to your site (All Traffic). Reports under this section include channel-wise contributions to the acquired traffic. Channels include Direct, Organic Search, Paid Search, Social, Referral, Email, Display, Affiliates and Other Advertising. By drilling down further into each channel under Acquisition, Social channel for example, you get information about specific social networks that serve as better traffic sources for your business. By integrating your Google Ads with Google Analytics, you can see how your paid campaigns are contributing and by connecting Google Analytics with your Search Console, you can see searches related data, including queries and landing pages, all in one place.

Behavior reports help you understand how users interact with your website content. It includes the following reports: Behavior Flow (user flow), Site Content, Site Speed, Site Search, and Events (user actions). You can also get valuable content related insights, such as top pages on your website (Site Content > All Pages), landing pages (Site Content > Landing Pages), and exit pages (Site Content > Exit Pages), helping you understand which content users are more attracted to and what they are looking for. Internal Site Search report (Behavior > Site Search > Search Terms) reveals what buyers are searching for on your site. And, Exit Pages report (Behavior > Site Content > Exit Pages) gives insights about where users are leaving your site from.

Conversions reports, comprising Goals, E-commerce, and Multi-Channel Funnels reports, show how your users are progressing towards transactions or goals that you have set in Google Analytics. With these reports, you can see events, purchases, and values of the products along with the time taken to purchase. Multi-Channel Funnel report shows the contributions of the various channels (Referral, Paid Search, Direct, Organic Search, Social Network) to conversions. You can also track users' journeys to becoming customers (Goals > Reverse Goal Path) and understand which features/content on your site work well, what does not, and what needs improvisation.
Google Analytics also offers custom reports (Customization > Custom Report > New Custom Report), attribution reports and seamless integration with other Google tools.
With all these features available for free to website owners, it is no wonder that Google Analytics remains an imperative tool for businesses and their digital sales and marketing strategies.
Buyer persona
Though the concept of personas was introduced by Alan Cooper approximately four decades ago, they continue to remain active in the conversations of marketing and digital teams today.
What are buyer personas? Why do they still matter? And, how can they help with your business growth?
A buyer persona is a fictional representation of your customer based on various factors. They include inputs from customer demographics, behavior, needs, motivations, goals, data from competitors, etc.
Creating buyer personas, as targeted as possible, will help you create actionable content, develop products, understand buyers' obstacles, eliminate communications gaps, and strategize to optimize your revenue. Detailed personas will also provide guidance on the platforms to be active on to reach your buyers.
Creating and using buyer personas
The steps involved in creating buyer personas include:
Know your customer: If you assume the qualities of your audience and create content for such audiences, they will not be effective. Such trial-and-error methods can cost you time and money. This calls for the need to research your customers to understand their challenges, needs and motivations. These steps involve addressing personal and work-related questions to recognize their interests, geography, purchasing power, and mediums of communication. To do this, you need to survey, talk to your employees who are directly in touch with customers, and set up one-on-one calls with the ones that you think are ideal customers.
Segment your customers: Once you have the raw data from customers in hand, segregate them based on the most common attributes. Research through them and arrive at groups with common demographics, behaviors, interests and fears, job roles, and mediums to communicate.
Create buyer personas: After segmenting the customers, create buyer personas for the important groups based on their similarity of challenges and intents. Determine who they are, what they need, and how much they are likely to spend on it. Create a template, give them a name, define their demographics, needs, work, goals, and challenges. You can start with creating as little as one buyer persona and let your ideal customer profile develop.
After creating buyer personas, you must build strategies to advance your marketing, sales, and product using the information available on the persona. Determine the communication gaps, and create increased awareness of your product by inspiring the customers.
Using Google Analytics reports to create buyer personas (manual process)
In this section, we highlight the reports in Google Analytics that are useful for creating buyer personas.
But first, here is one thing to keep in mind for all reports. You must make sure to select a long enough date period. A period of twelve months is recommended to generate personas that are more robust and have lesser seasonal biases. The date period can be set using the date range selector, located at the top right of each report.

For creating buyer personas, it is best to start with reports under the Audience tab. Screenshots shown below for illustrative purposes are from the Master View of Google Analytics demo account (Google Merchandise Store).
Look at the age range and gender based user distribution shown in the Demographics > Overview report. You can quickly identify the top age group (25-34, as per the screenshot below) and gender (male).
Optionally, you can add segments (+ Add Segment) such as Bounced, Converters, Made a purchase, etc. to understand variations in age-gender demographics across segments.
By drilling down into the Demographics > Age report, you can understand the variations across age groups in terms of other key metrics, apart from user %, such as sessions, pages per session and average session duration. For e-commerce and SaaS websites, transactions and revenue are the most important metrics. Using these reports, you can determine your best-performing age group(s) for your website.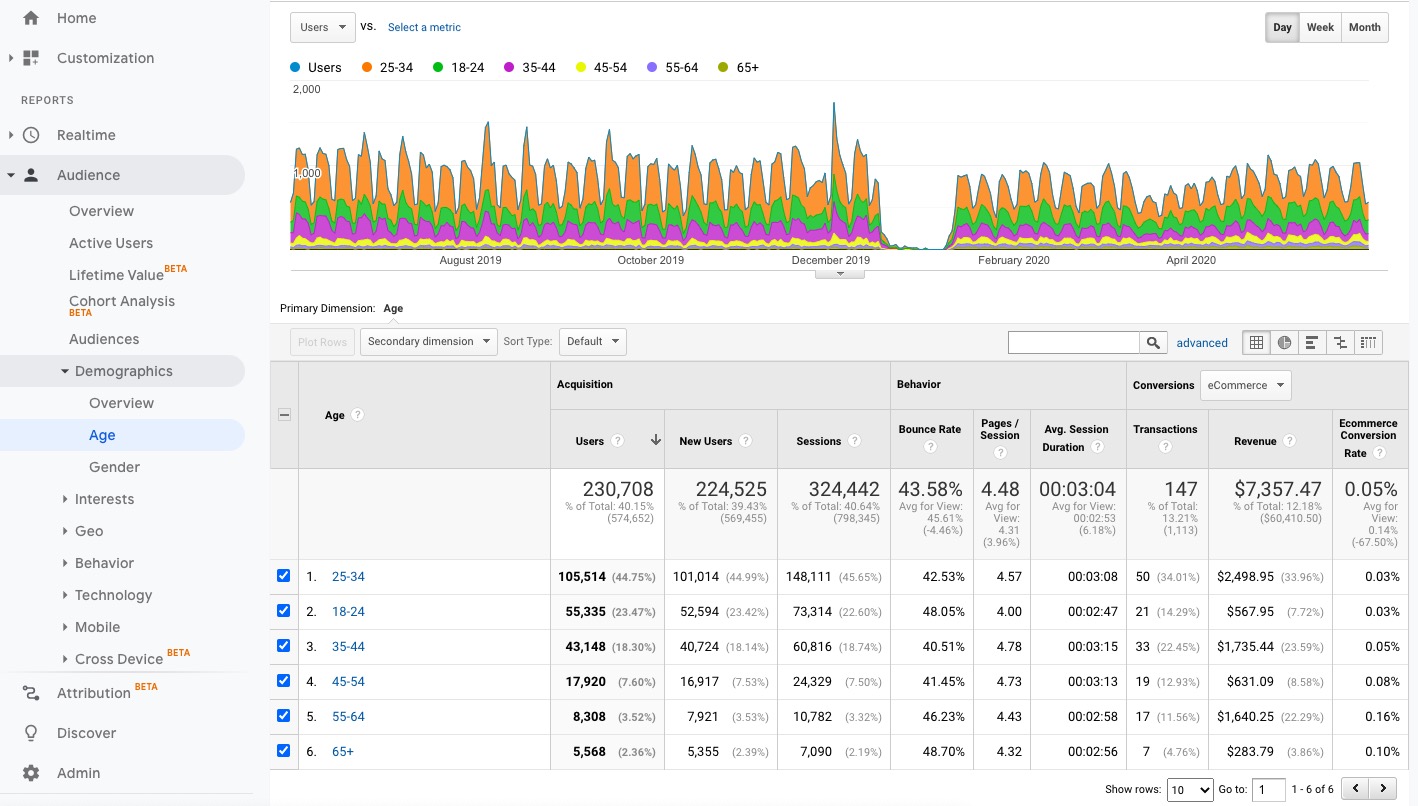 Similarly, by drilling down into the Demographics > Gender report and evaluating performance across key metrics, you can determine your best-performing gender (male or female) for your business.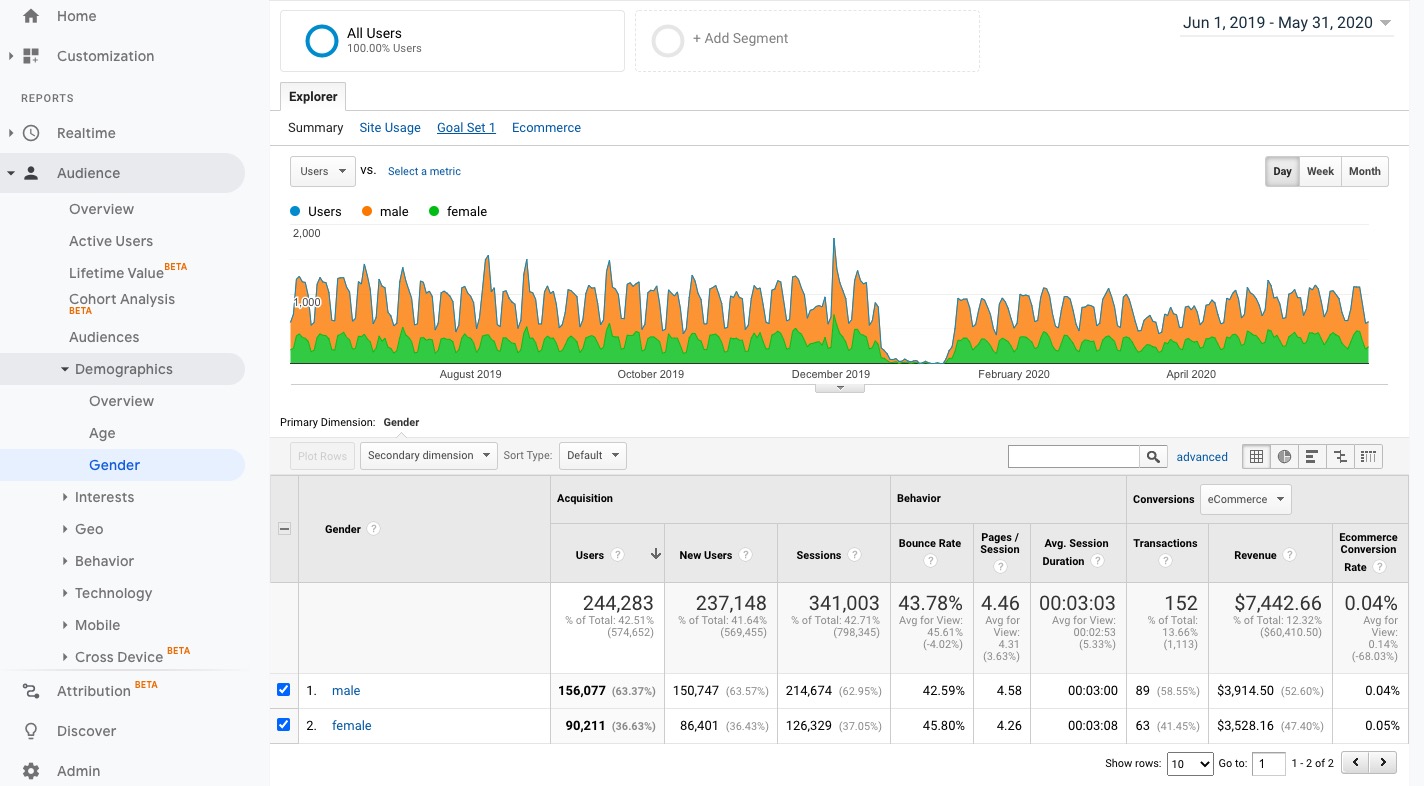 Please keep in mind that age-group and gender are relevant only when creating personas for B2C (business-to-consumer) businesses, and not for B2B (business-to-business) buyer personas.
From the information gathered so far for this example, the best-performing buyer persona can be assumed to be a 25-34 year old male.
To validate this hypothesis, you can click the top performing gender (male in this case) in the Gender report and use the next level report that combines Gender + Age information.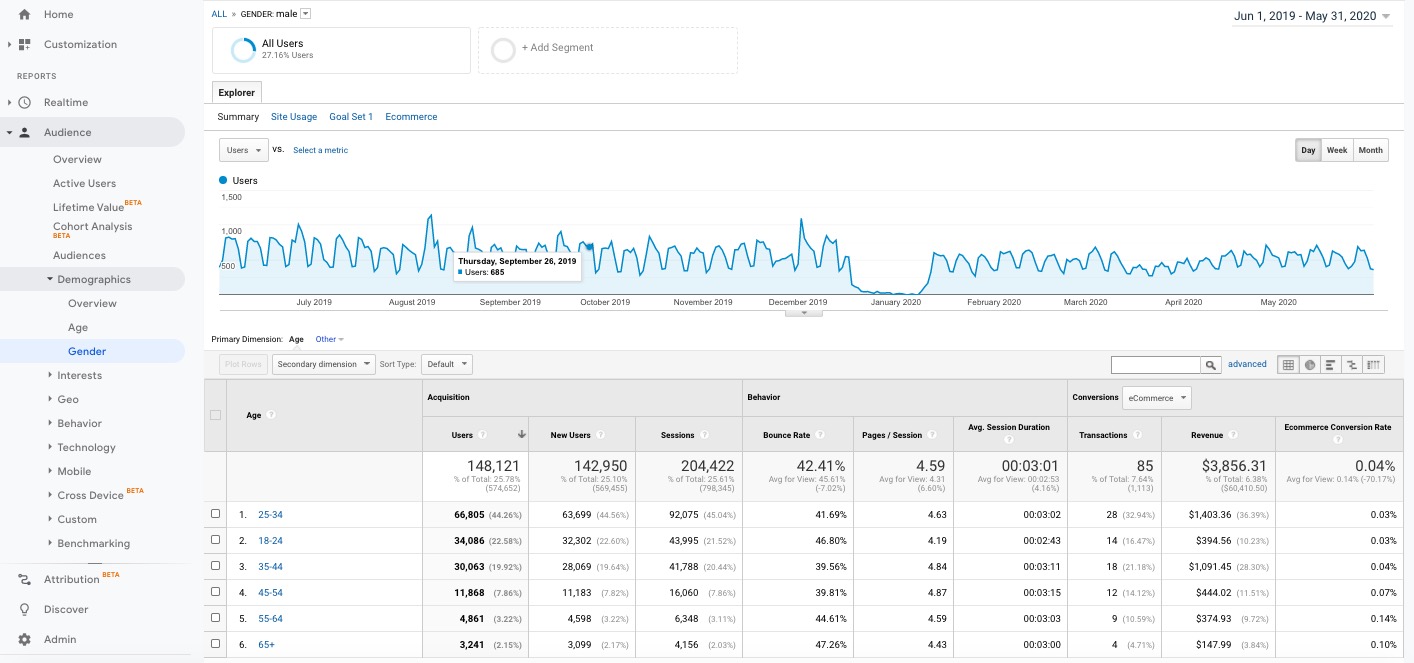 (Alternately, you can drilldown from the Demographics > Age report, as shown in step 2 above, and click on the top performing age 25-34 in the Age report and use the next level report that combines Age + Gender information to validate the hypothesis.)
Once the age and gender for your buyer persona have been identified, drill down further to the Interests report to get ideas on what they are interested in. To do so, click on the top performing age-group (25-34) in the Gender + Age report.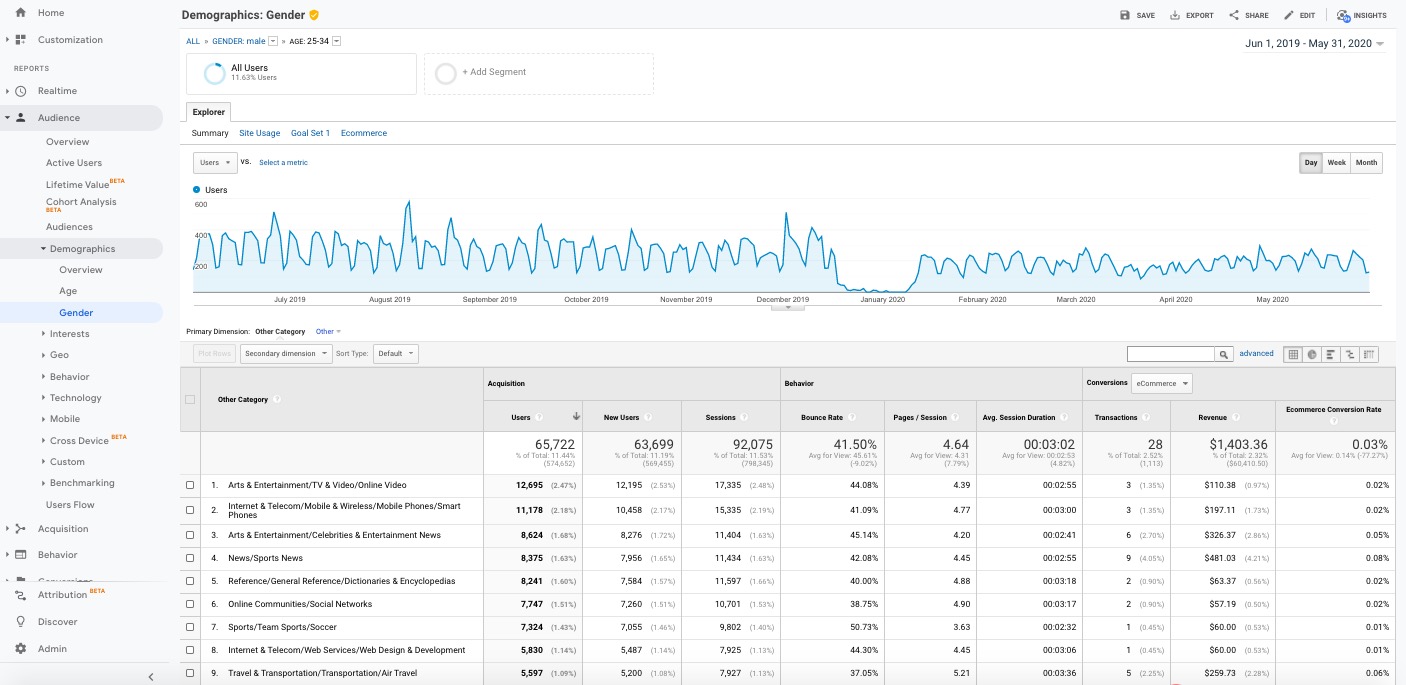 The Other Category report (Gender + Age + Interests) shows the specific interests of this target group. As can be seen, this group is technology-savvy, loves mobile gadgets and consumes videos and celebrity/sports news online.
Click on the "Other" dropdown next to "Primary Dimension" to view two other types of interests - Affinity Category and In-Market Segments.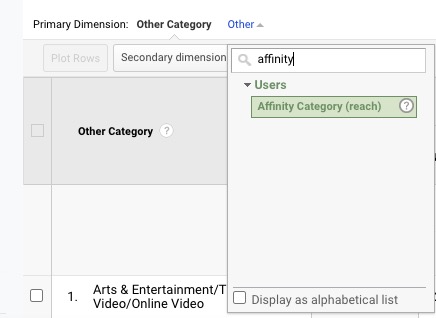 Affinity Category report provides information on the lifestyle interests of this group of users at a more abstract/generic level than Other Category report.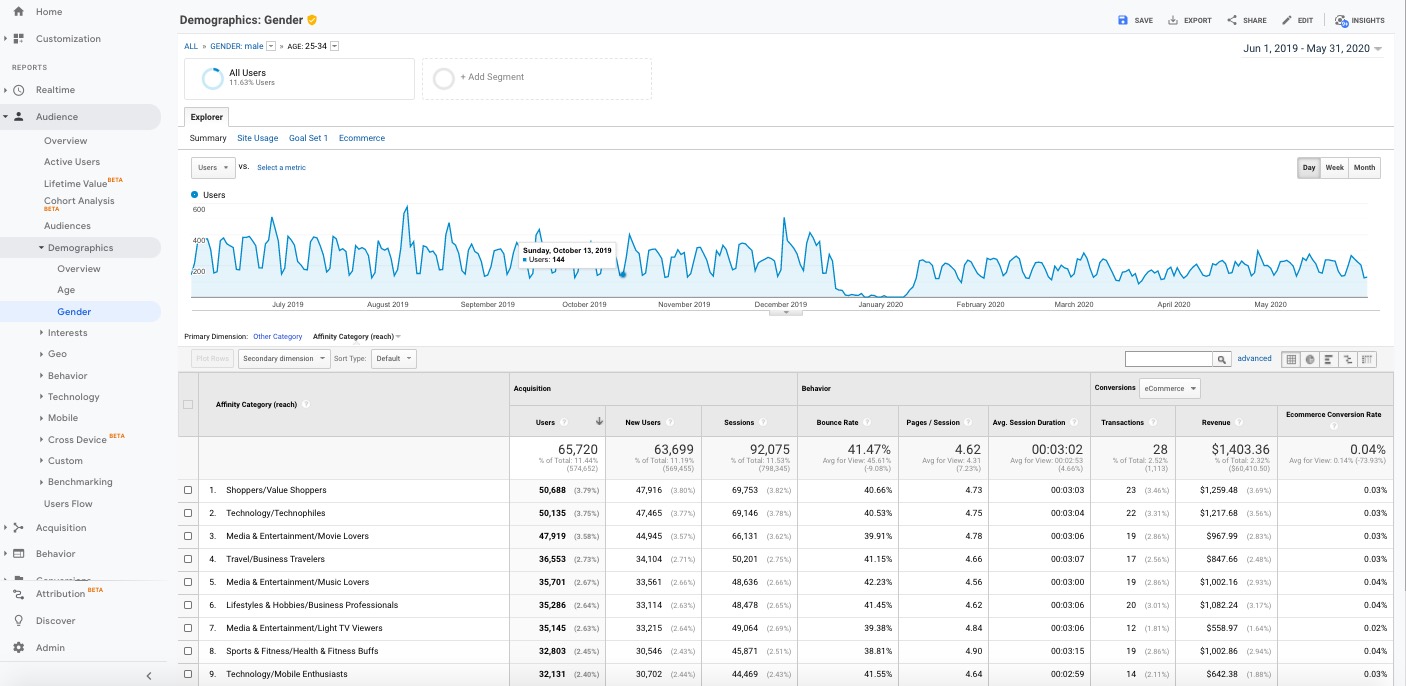 In-Market Segment report lists their current purchase interests for product and services.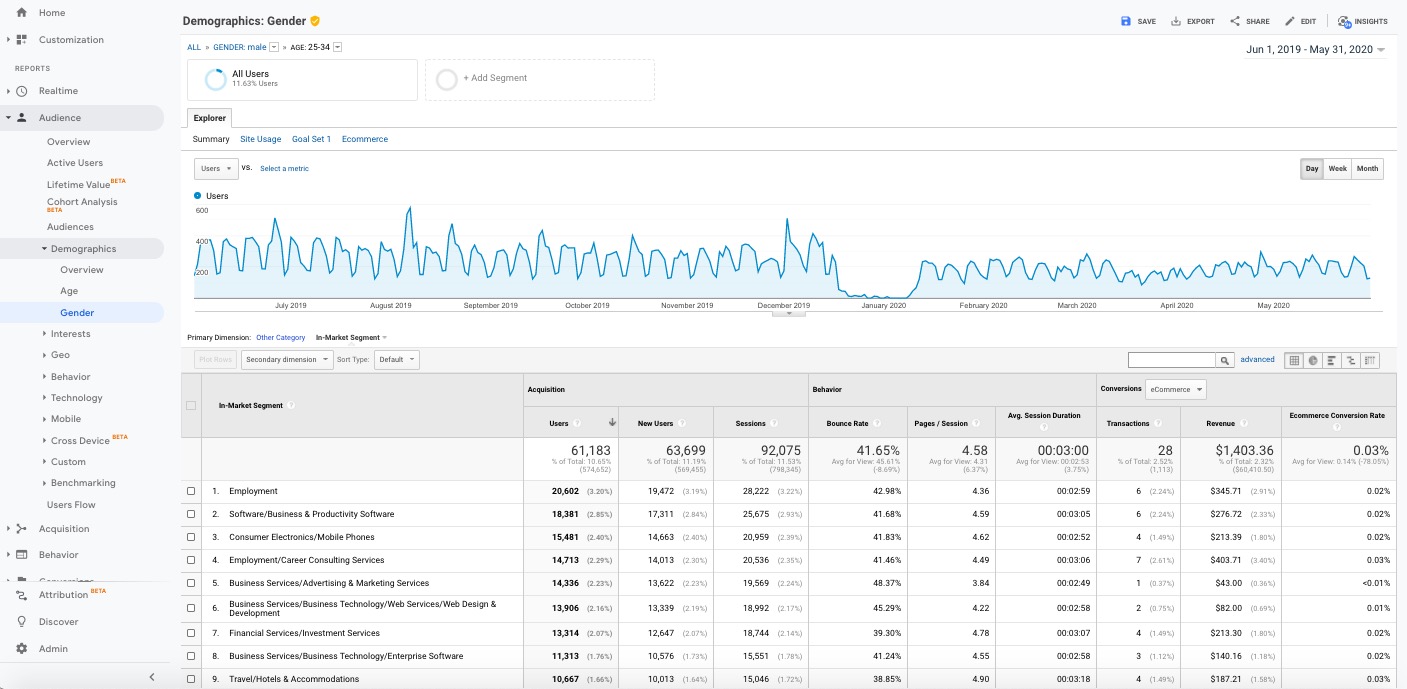 Geo reports (under Audiences tab) provides insights about the languages that users primarily prefer (Geo > Language) and the locations from where they access (Geo > Location).
The Language report provides insights into language preferences based in the settings of the users' browsers and are listed as per their ISO codes.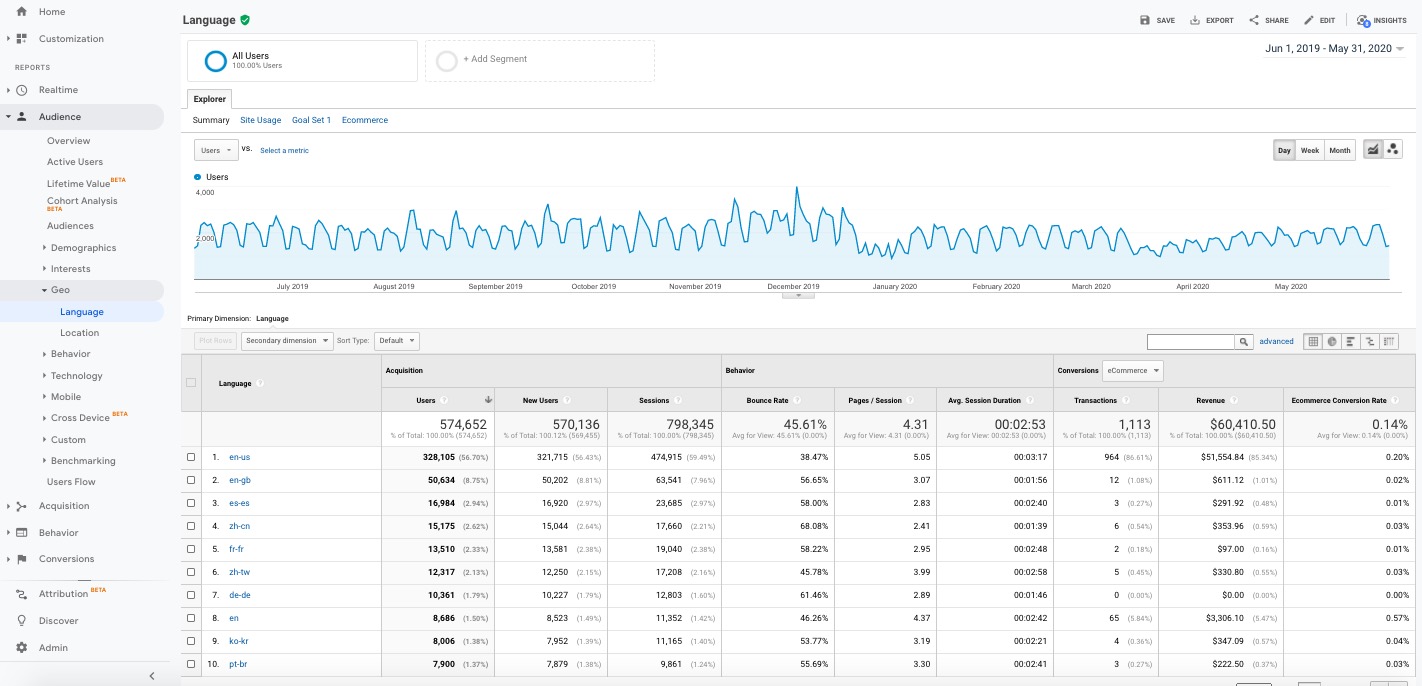 The Location report allows you to view the hierarchy of countries your users are from and the associated metrics.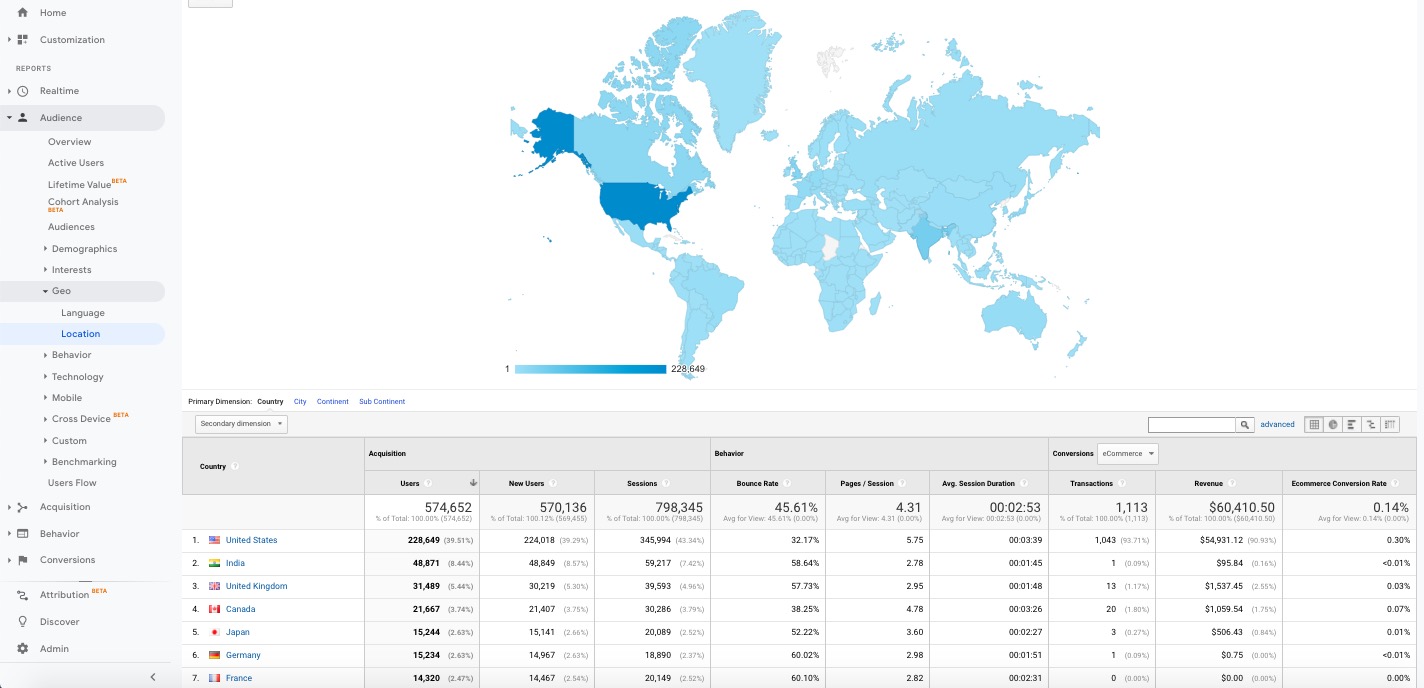 When you click on a specific country (United States being the top country in this example), it shows you the top regions/provinces/states of that country where the users are from.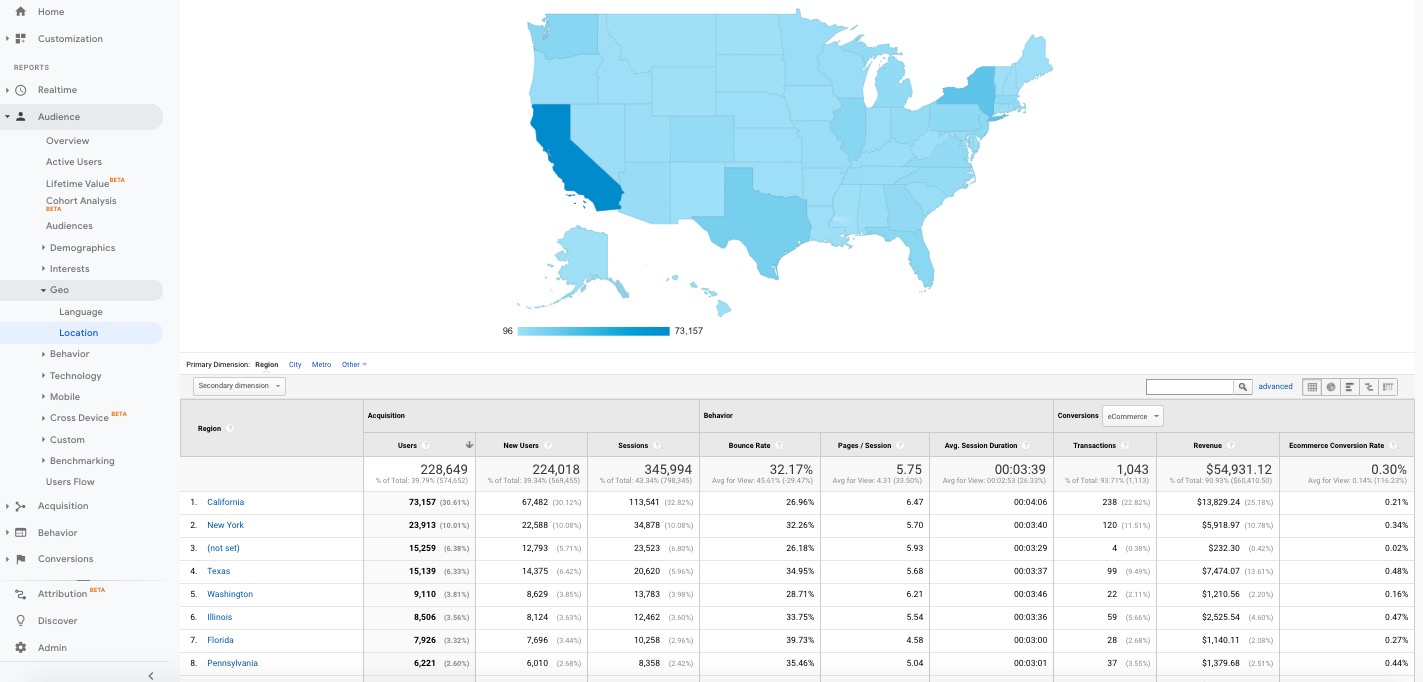 By changing the Primary Dimension of this report from Region to City, you can also see the top cities that the users are from. Use this information (New York City in this case) to define where the persona is based.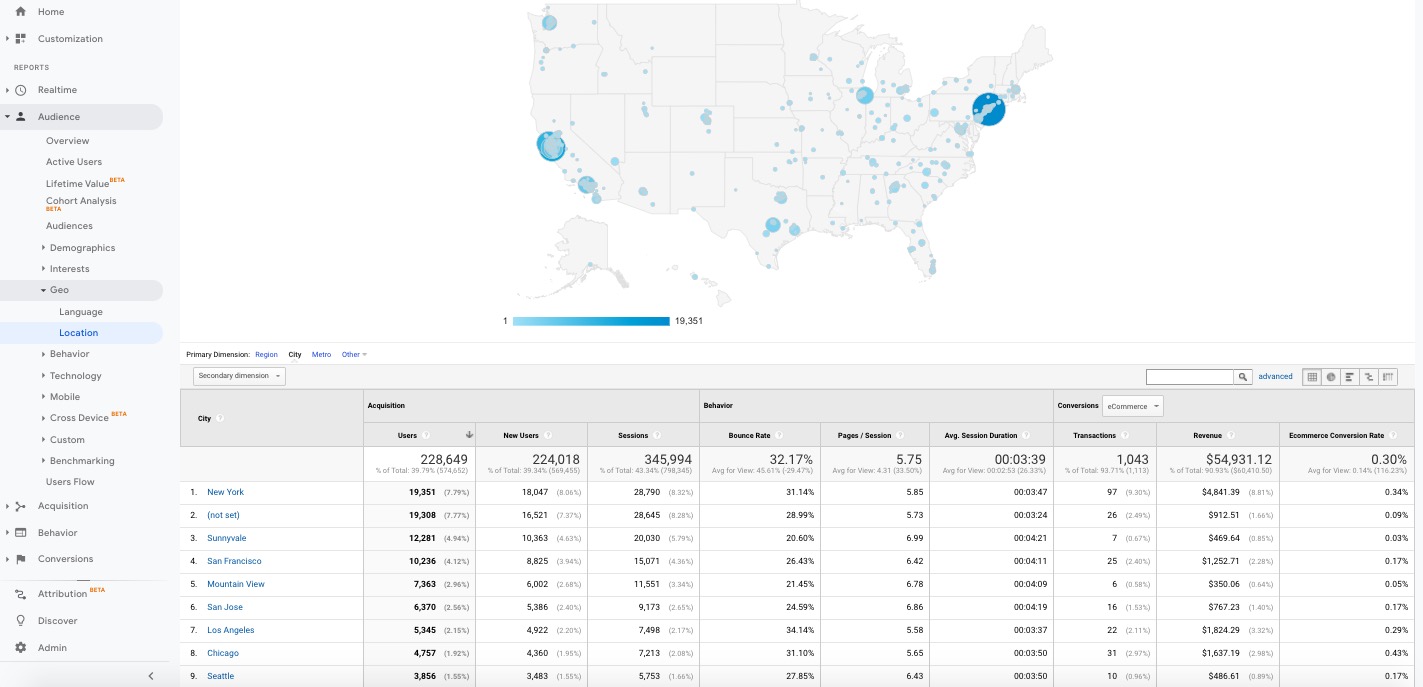 Use the Technology report (Audience > Technology) to view information about the users' browser versions and operating systems.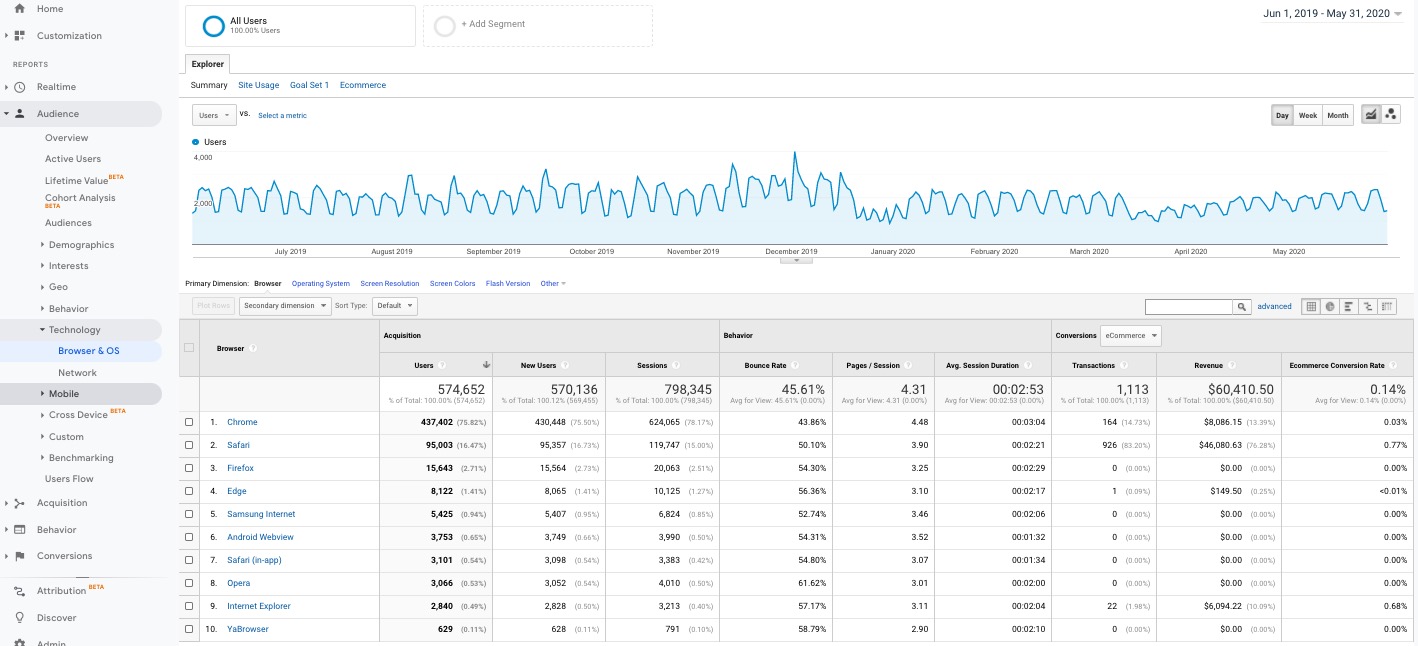 Further, the Mobile reports (Audience > Mobile > Overview, Audience > Mobile > Devices) help you understand the type of devices that your users prefer to use (computers, mobiles, or tablets) and in the case of mobiles and tablets device types, the brands and models of the devices used while interacting with your website.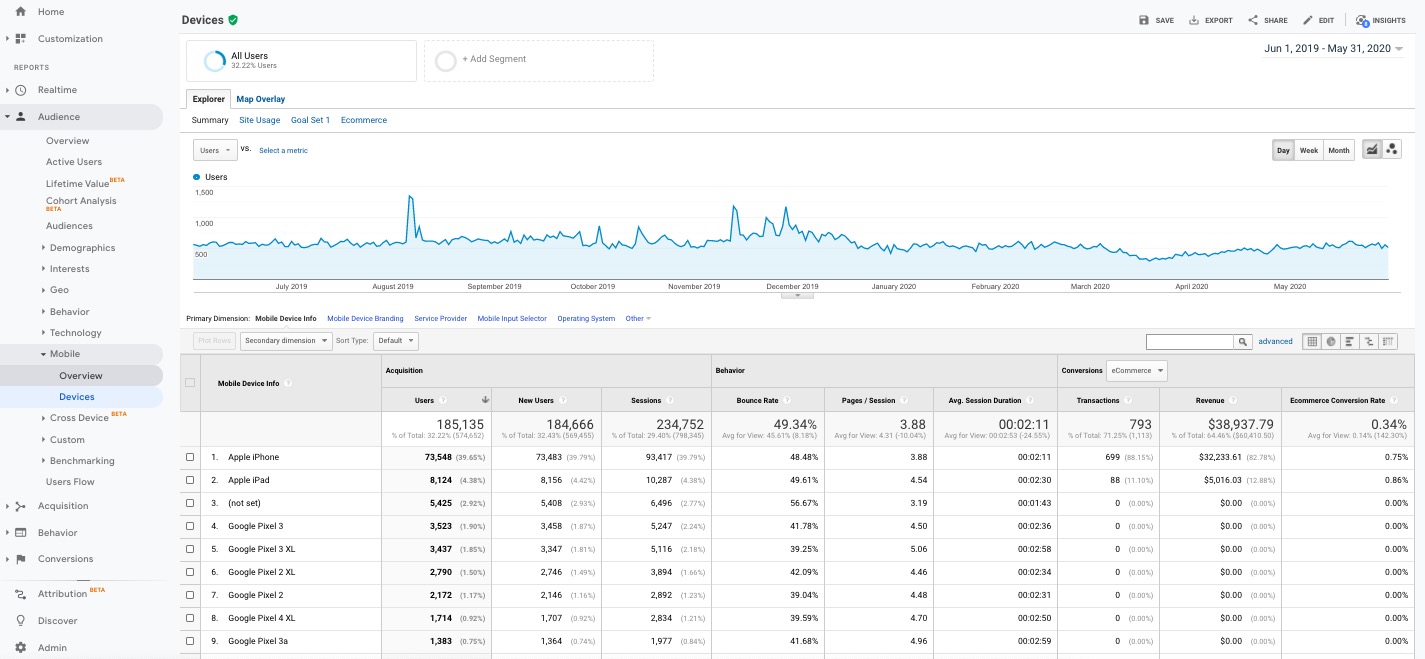 The Technology and the Mobile reports help you identify the devices that you should use to optimize your website.
Keyword report (Audience > All Traffic > Channels > Organic Search) provides the list of keywords used by users to reach your website. You should ignore the rows with keyword values matching "(not set)", "(not provided)" and URLs.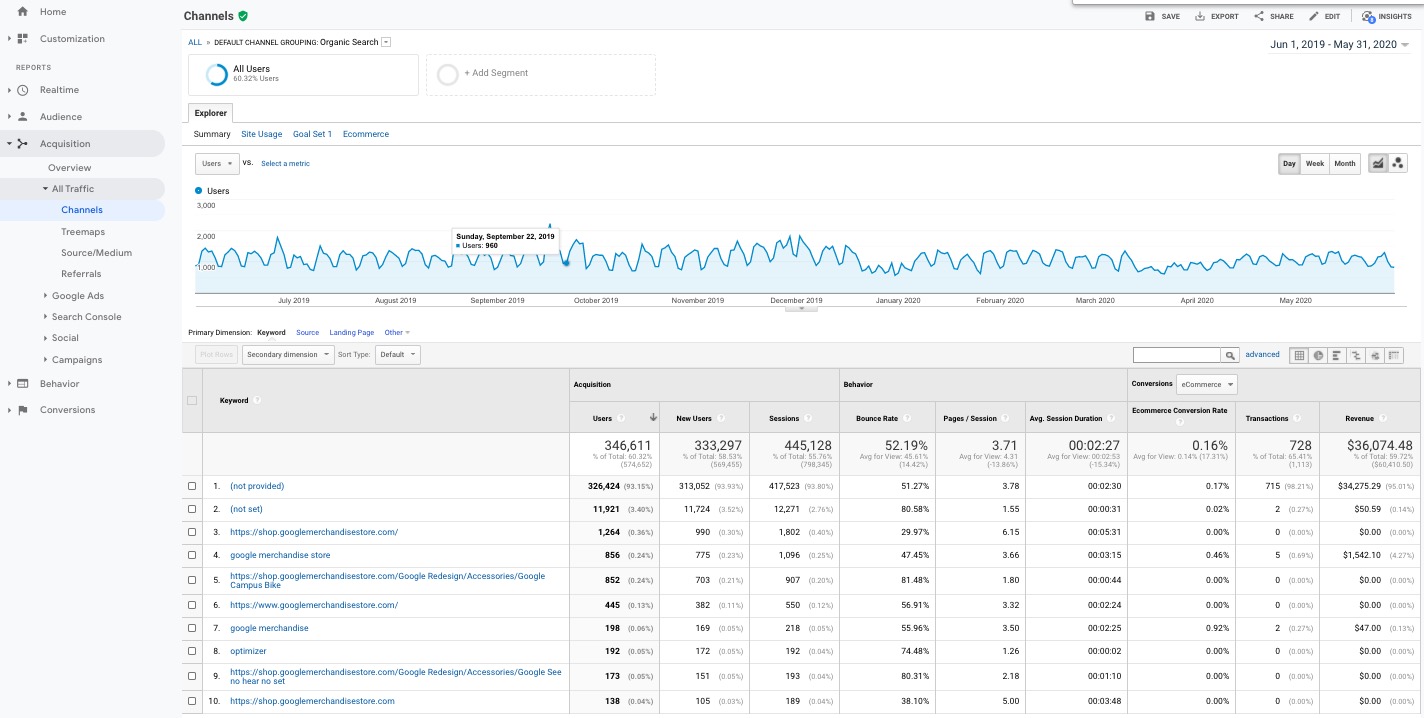 Using all this information thus obtained from various Google Analytics reports as listed above about your best performing group (age group, gender, their interests, location, and technology preferences), you can put together your first persona (primary persona).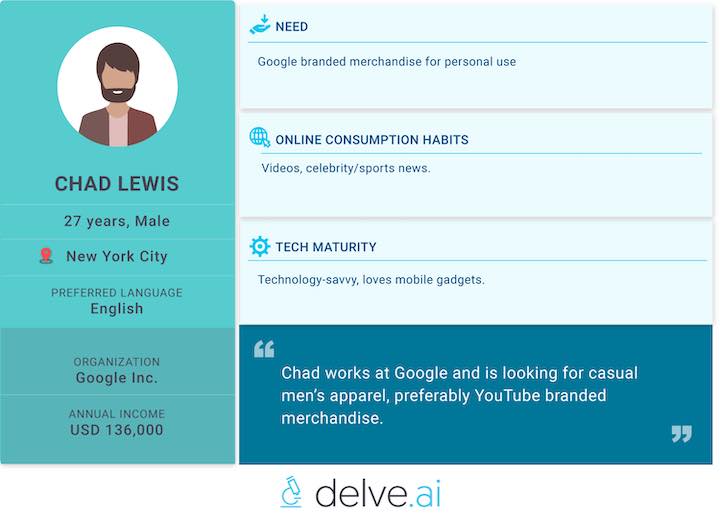 You can then repeat these steps with different criteria of metrics, such as high bounce rates for your less interested audience, to create additional personas. With 3-5 personas in place, you will also likely be able to identify differences between them. Use these personas to refine your marketing strategies and sell/serve your customers better.
Steps to create buyer personas from Google Analytics reports (manual process)
Step 1: Know key elements and data sources
Make an outline of the key elements needed to define buyer personas. Find below an initial list of such features, along with the Google Analytics reports that provide the relevant information.
Demographics (Age, Gender): Audience > Demographics > Age / Gender
Location (Country, Region, City): Audience > Geo > Location > Click on the country to view Region / City Primary Dimensions
Interests (Personal preferences relating to travel, food, etc.): Interest > Affinity Category
Hobbies (Leisure interest): Interest > Other Category
Communication preferences (Social media platform interactions): Acquisition > Social > Overview
Work (Employment status, designation): Audience > Interest > In-Market Segments
Step 2: Enable Demographics and Interests reports in Google Analytics
Given that Demographics and Interests reports provide key insights that help create more accurate buyer personas, you should enable Demographics and Interest reports in Google Analytics, if not already done so.
Follow the steps below to enable Demographics and Interests reports.
Enable Advertising Reporting Features
Sign in to your Google Analytics Account
Navigate to Properties > Tracking Info > Data Collection
To enable only the Advertising Reporting Features, turn ON only Advertising Reporting Features
Enable Reports Features under Advertising Features
Navigate to Admin > Property > Property Settings (located at bottom left corner)
Turn ON the Enable Demographics and Interest Reports under Advertising features and Save
Enable Google Analytics reports
Navigate to Admin > Property > Property Settings (located at bottom left corner)
Under Reports open Audience > Demographics > Overview report
Click on Enable above the introductory paragraph
Step 3: Get analytics data
Now that you have identified the information that you need to create customer personas and how to get them using data reports from Google Analytics, it's time to pull the raw data. Use a time period of six months to a year. The larger the data that you have, the better.
As businesses usually form more than one buyer persona, generate reports based on multiple metrics/segment criteria to enable you to create several personas under distinct customer types.
Export the reports, and save them, grouped by customer types. Look for patterns and filter out the best performing user categories. Write them down in a separate document.
Step 4: Draft buyer personas
With the information that you have obtained, you can map them out as personas. Write the information like narrating a character. Here are some details to keep in mind when drafting the personas.
Name – A buyer persona is a fictional representation. Give it a name that is very generic for virtual identification. Each of your customer types must have a unique name which will make teams across your organization identify them easily.
Photo - This is essential for the persona's identity. You can use an actual picture of people available for reuse or create an illustration or a vector image of the character. Make identity as realistic as possible. Consider age, professional factors, and geographical factors while doing so.
Description - Description is a space where you describe the persona's characteristics. Write them in sentences to make it a narration or use bullets. Mention the persona's age, gender, profession, interests, hobbies, social lifestyle, and needs. Include any information that you think applies to your industry or market under it.
Buying triggers and process - Buying triggers include the kinds of advertising or situations that the buyers consider while making purchase decisions. Get this information via Google Analytics under Acquisition reports. We can view the buying process and channels involved under Conversions > Multi-Channel Funnels.
Challenges - Every customer has challenges and constraints. For each customer type, find what constraints are relevant to your users and list them down.
Step 5: Keep personas updated
Although the process of creating your initial set of buyer personas ends here, it is important to keep in mind that your users and their behaviors will keep evolving. As a result, you must update your personas every six months to two years or so, depending on your industry. Regularly updated personas will keep you informed on changing user behavior and trends in your industry's ecosystem.
B2C vs B2B buying behaviors
Business-to-consumer (B2C) and business-to-business (B2B) buyers differ in their needs and behaviors. Our blog article on B2B buyer personas explains how B2B purchasing processes are more involved compared to B2C buying processes. It also summarizes the differences in characteristics between such processes, including navigation, time, people involvement, intent and purpose. These considerations must be kept in mind when developing buyer personas for B2C and B2B businesses.
Creating buyer personas using Google Analytics and Delve AI (automatic generation)
Challenges with manual process of creating buyer personas
The manual process of creating buyer personas using analytics data from sources such as Google Analytics, as described above, can be wearying and intimidating. We list below some of the key challenges with such manual methodologies.
Analytics dashboards display reports in terms of dimensions, metrics and aggregated values. The number of dimensions and values available in Google Analytics has been increasing over time and is now of the order of few hundreds. Analyzing all this data and segmenting them based on behavioral patterns is a procedure that takes a lot of patience and effort. Further, in such a tedious process, there are high chances of missing key elements that will impact the accuracy of the buyer personas created.
Data from analytics reports often treats the entire audience as a single group when in reality there are multiple groups/segments with users in each group showing similarities in behavior. While Google Analytics allows you to create and use segments, they are often based on one or more manually determined dimensions/attributes and hence provide limited insights.
Data from tools like Google Analytics does not provide any industry specific insights. It captures and present data that is agnostic to the industry or vertical that your business belongs to. In other words, whether a business belongs to the retail or healthcare industry, the set of dimensions and metrics presented by the such tools is the same.
An alternative to employing manual techniques to create buyer personas from Google Analytics is to use automated tools such as Live Persona by Delve AI. You no longer need to manually create mental models of digital users and buyers from dimensions and metrics and can get humanized views in terms of buyer personas automatically.
Using automated tools help eliminate errors and ensure robust personas. It creates personas based on business type (B2C/B2B) considerations and extracted industry specific insights. Further, segments and associated personas are automatically generated based on behavioral differences, thereby providing insights into variations across groups.
Live Persona by Delve AI
Live Persona by Delve AI is the world's first software to generate personas automatically from web/mobile analytics data. It works on aggregated and anonymized analytics data from Google Analytics, adds industry specific insights, automatically segments users based on their behavior, and leverages advances in machine learning to abstract personas for each segment. No more time-consuming manual analysis! Personas are auto-generated and kept all up to date. Gain clarity on your best-performing segment, refine your customer experiences and get targeting ideas from your most valuable segment to grow your business. You can try it for free and results are usually available in minutes.
Advantages of using Live Persona by Delve AI
Here are some of the key advantages that you get by choosing to use Live Persona by Delve AI for creating buyer personas from your Google Analytics data.
Automatic generation of buyer personas: With Live Persona by Delve AI, accurate segment-wise buyer personas are automatically generated in minutes from your Google Analytics data. You no longer need to spend hours on end struggling to figure and characterize your customer profiles.

Raw data from websites/ mobile applications is pulled from Google Analytics in anonymized and aggregated form by Delve AI platform and put through the steps of data enrichment/augmentation, learning based behavioral analysis, automatic segmentation and humanization to create deeply insightful buyer personas.
Enriched analytics: Data is augmented for deeper user context, with 20+ external/generated data sources/models. These added dimensions, not available natively in Google Analytics, are also used as inputs when creating personas and are available on Delve AI dashboard. They include:
How: Query analysis, Internet Service Provider, Connection speed, Device features, Display size
What: Content analysis, Action/event analysis, Goals, Transactions
Where: Urbanicity, Territory, Climate zone
When: Weekend/weekday, Part of day, Holiday/occasion, Weather, Season
Who: Organization, Industry, Language, Translation
Industry specific insights: By analyzing user behaviors (e.g. viewed pages and searches), key structured attributes that are specific to your industry/vertical, are also extracted. For example, in the apparel & fashion industry, keywords are grouped and presented in terms of relevant attributes such as size, gender, occasion, type, color, age-group, etc.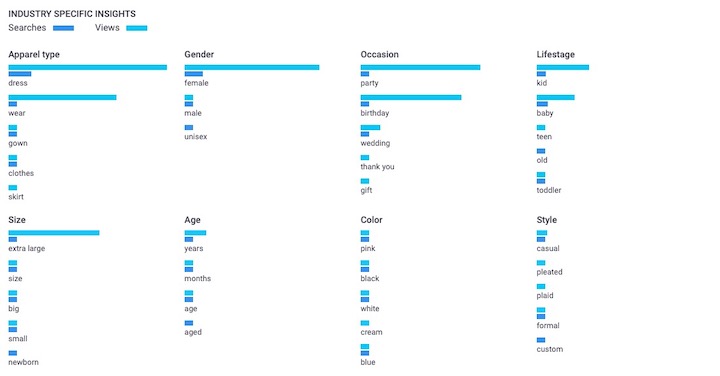 Delve AI's analysis systems automatically extract industry specific insights for over 40+ major B2B/B2C industries. Industries supported include:
B2C: Apparel & Fashion, Automotive, Banking, Consumer Electronics, Consumer Goods, Entertainment, Financial Services, Food & Beverages, Furniture, Health, Wellness and Fitness, Higher Education, Hospital & Health Care, Hospitality, Insurance, Leisure, Travel & Tourism, Luxury Goods & Jewelry, Real Estate, Retail, Restaurants, Sporting Goods
B2B: Computer Software, Construction, Electrical/Electronic Manufacturing, Human Resources, Information Technology and Services, Marketing & Advertising, Mechanical or Industrial Engineering, Medical Devices, Mining & Metals, Staffing and Recruiting.
Behavioral analysis using machine learning: Figuring out buyer intent and their decision phases (with respect to purchase processes) are key elements that can add lot of value when creating buyer personas. Delve AI uses machine learning techniques to unearth these insights, including:
Intent: Know, Do, Website, Visit in person
Decision phase: Research, Intent to convert (online/offline), Conversion
Automatic segmentation: Users are segmented automatically using behavioral factors such as:
Engagement: context, intent, actions
Outcomes: conversions, decision phases
Sizes of each segments are displayed in terms of the % of users of the entire audience. Personas are separately extracted for each segment.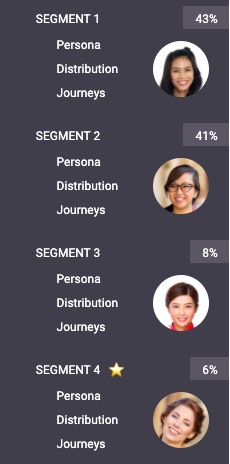 Humanized representations: As personas require people based representations, Delve AI automatically decodes user behavior and transforms segment-wise data for human assimilation and follow-up. It does so by adding humanized details such as preferences, personal lifestyles, interactions, and sample journeys to create personas. By moving from data dimensions and metrics based representations, these personas bring empathy to your data driven marketing efforts and keep people at the centre of decisions and activities.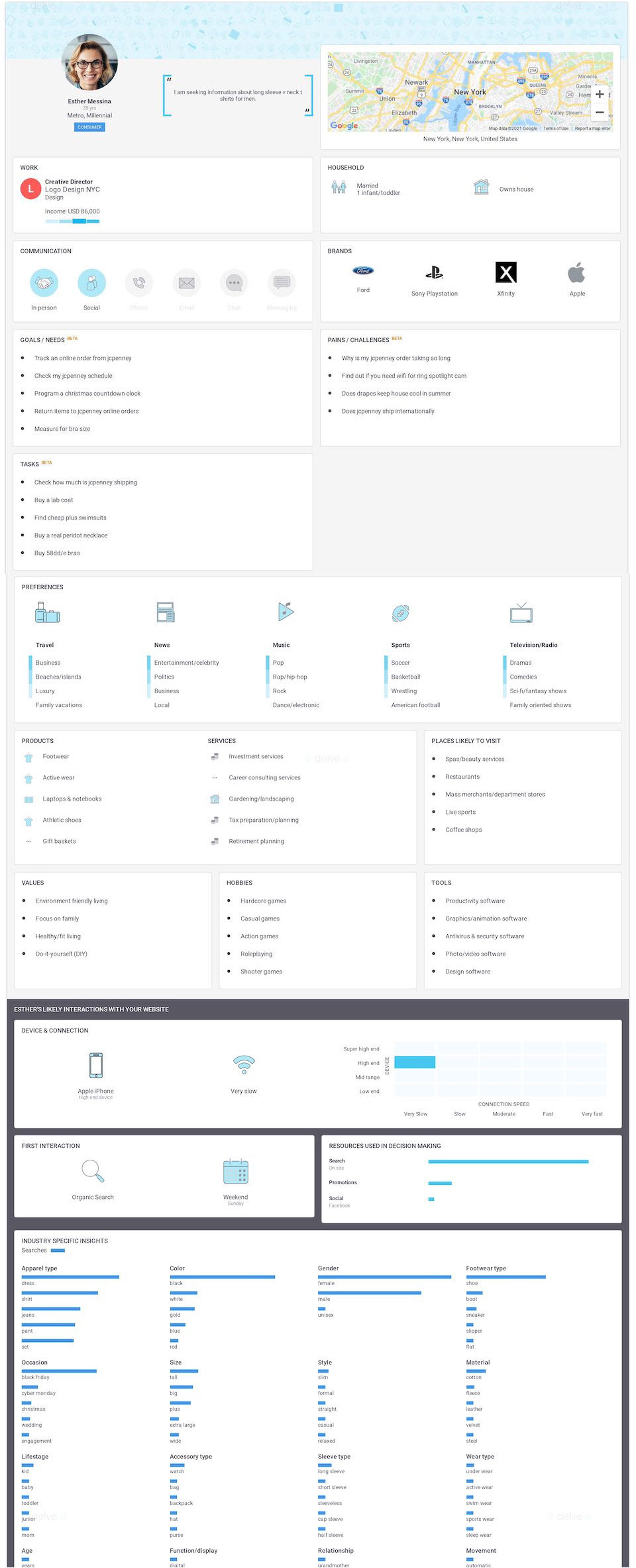 User distribution: While a persona representation provides useful insights via a single person representation, it is also useful to see the distribution of attribute values across users in a given segment. The age attribute, for example, is captured in a persona representation as a single age (e.g. 27 year old), while user distribution helps gain deeper understanding of the distribution of age group ranges across all users in a segment.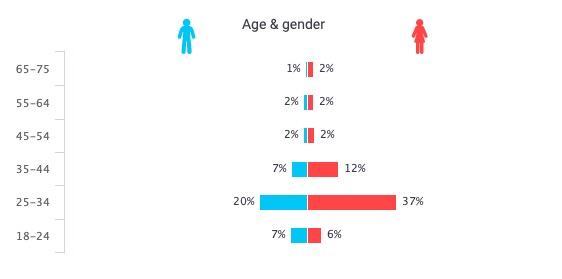 Sample user journeys: Delve AI also extracts and displays sample user journeys for each segment. As can be seen later in this article, personas when used in conjunction with journeys, can help identify and eliminate drop-offs/obstacles and hence deliver improved customer experiences.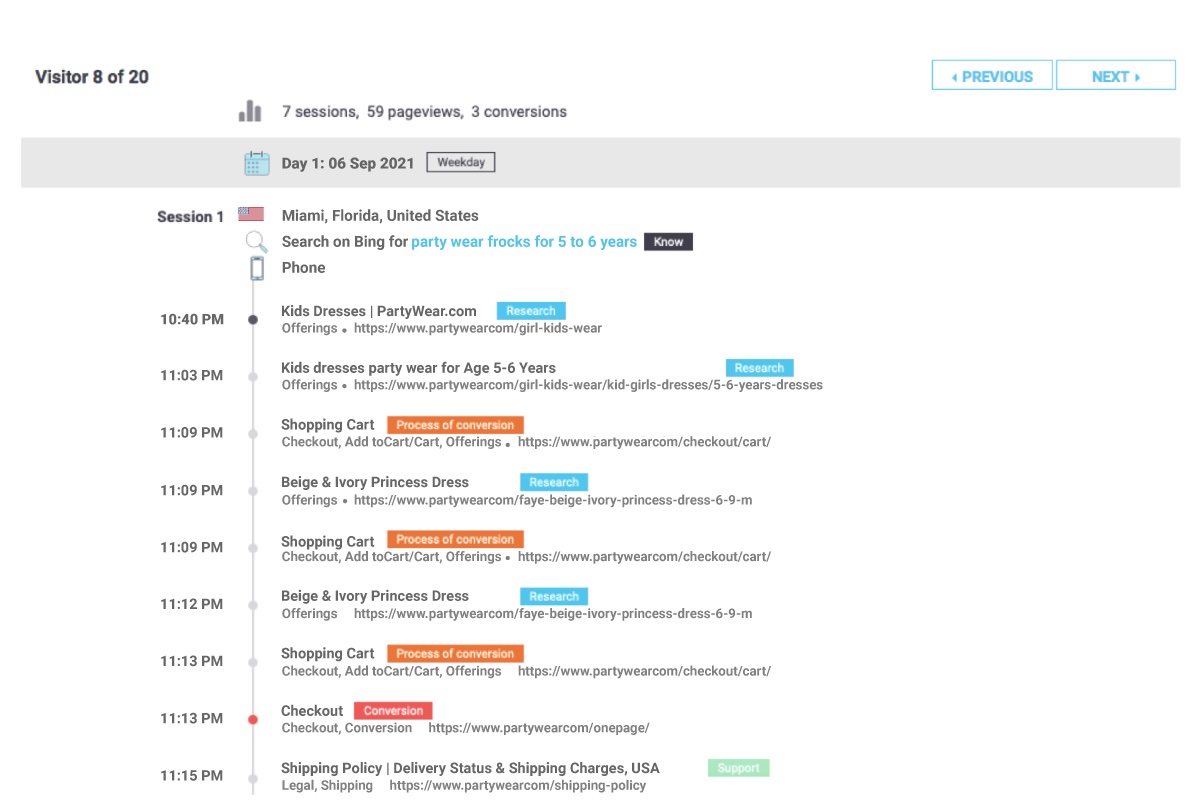 B2B considerations
Unlike B2C purchases, buying a B2B product/service typically involves multiple persons. Further, the usage of B2B offerings may span multiple functions and hence buying decisions involve several departments of the company.
Given these differences, B2B buyer personas and user journeys should ideally be at the organization level and not at the user level. Delve AI handles such B2B scenarios automatically and provides deep insights, that work well for account based marketing (ABM), into organizations, industries, company sizes, job functions and job experience levels of likely buyers in each segment.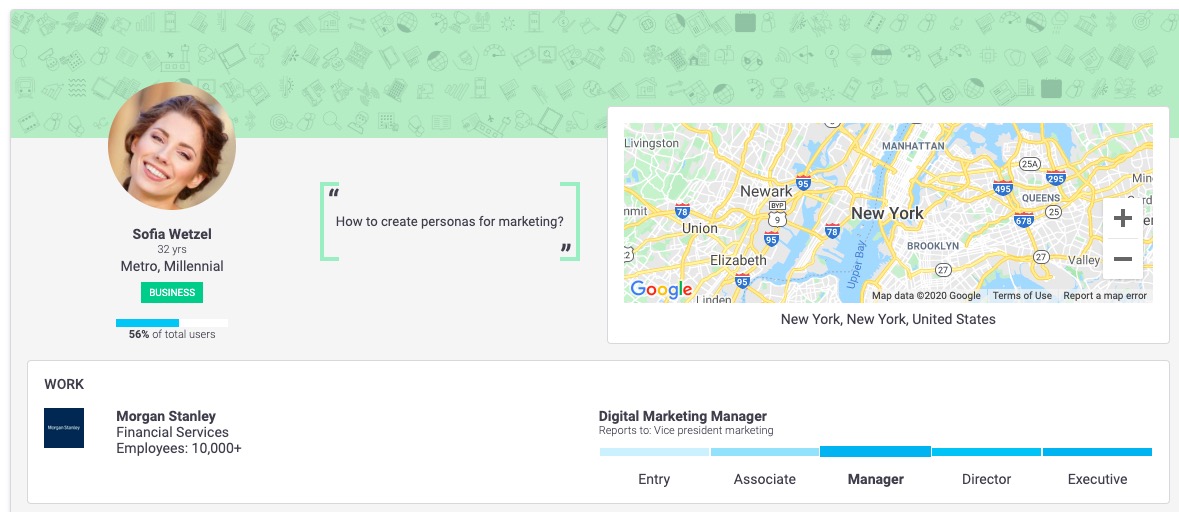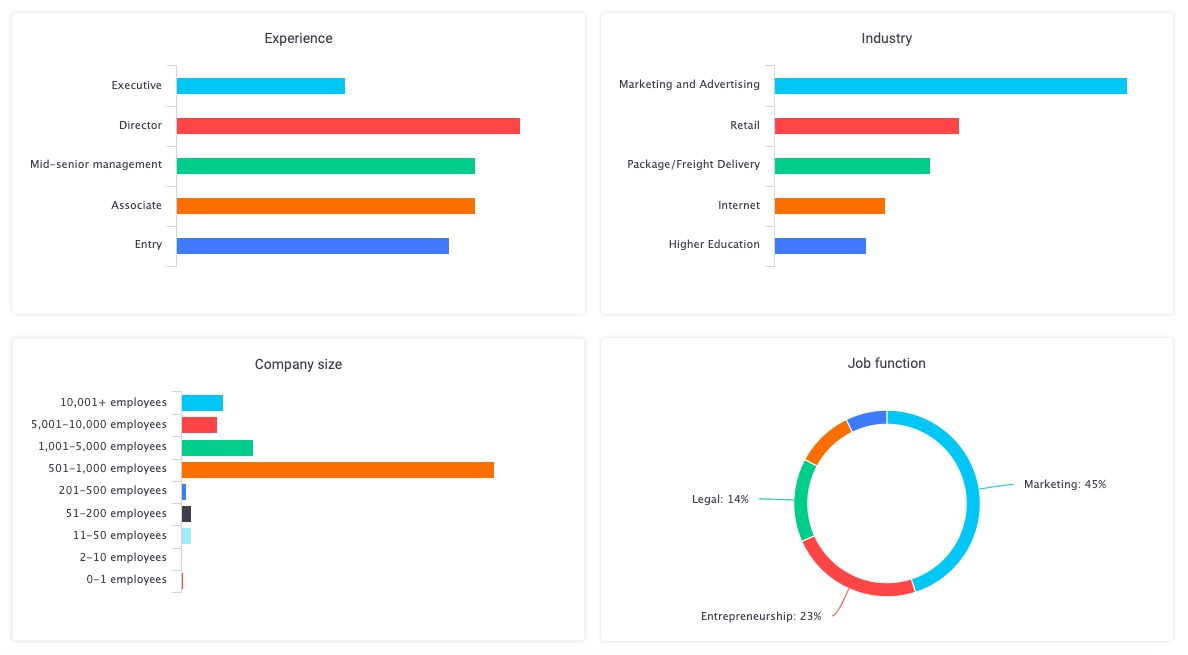 Further, Delve AI automatically classifies visitors to B2B websites into one of the visitor groups as listed below, based on profile, intent and behavior, persona identification.
Business prospects
Job seekers/recruiters
Investors
Partners/competitors
Press
Service providers
Blog readers
Government
Creating marketing strategies based on target personas
Insights from buyer personas can be used to form effective strategies to reach and best influence your target buyers across buying decision stages. The more detailed your buyer personas are, the more personal you can make your messaging and outreach.
When used along with customer journeys, buyer personas help:
consider touchpoints of prospective buyers,
understand drop-offs and typical obstacles,
be actively present on platforms where they are (usually in the research/awareness stage), and
provide enough actionable content to guide them to purchase (in the conversion stage).
Conclusion
Creating and using buyer personas are essential in today's dynamic market environment. Businesses all over the world are vying for sustainability and growth. Hence, it is important to know your target buyers well and to stay alert to their evolving needs and priorities. With vast amounts of information now available about your buyers and their behaviors (including from sources such as Google Analytics), you can use the steps/methodologies listed in this article to create buyer personas on your own. You no longer have to rely on guesswork to understand your digital buyers.
Further, with tools like Live Persona by Delve AI, you can leverage advances in artificial intelligence and machine learning to generate accurate data-driven buyer personas and amazing customer insights with ease. You can try it for free and results are often available in minutes. Making use of these technologies and resources not only helps you save time and cost but also gives unique ideas to expand your business.